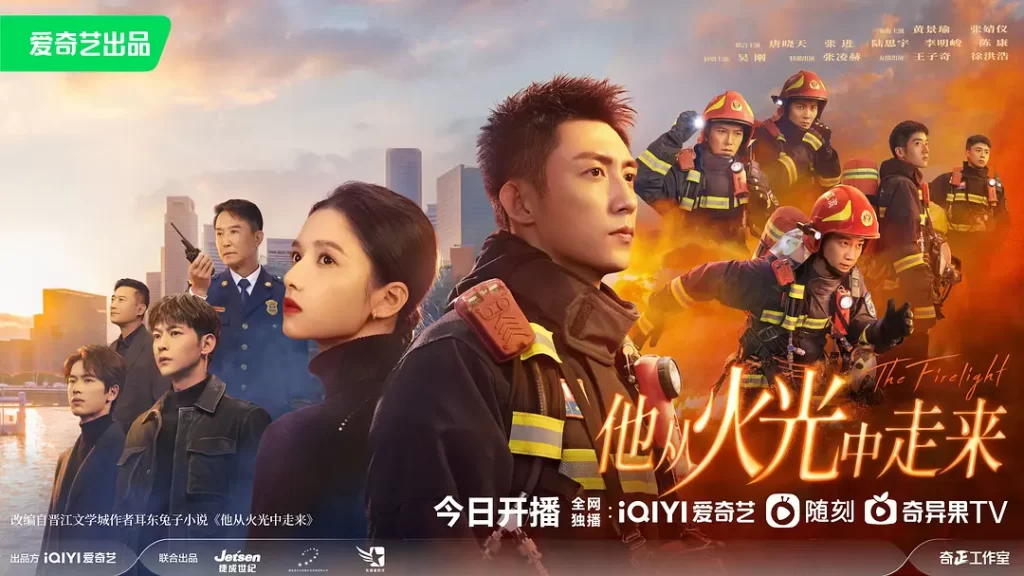 Bright Eyes In The Dark (他从火光中走来) is my third firefighter Chinese drama in 5 months. I'm not sure if there is a trend here that firefighter stories suddenly become the rage for production houses. But I think the one that is released later is bound to be at a disadvantage because all these plots tend to be similar. So, it boils down to the star power to attract viewers unless you are a big fan of firefighters dramas or you have not watched a similar one recently. Anyway, I sat through all the 40 episodes of this drama and my Bright Eyes In The Dark review is as per below.
My rating: 7/10
Episodes: 40
Type: Action Romance
Aired: September 2023
Images Credit: iQIYI Facebook
The Cast Of Bright Eyes In The Dark
Johnny Huang Jing Yu as Lin Lu Xiao
Zhang Jing Yi as Nan Chu
Daddi Tang Xiao Tian as Jiang Ge
Zhang Ling He as Lin Qi
Lu Si Yu as Yang Zhen Gang
Zhang Jin as Yu Qi Lei
Hu Yi as Liu Ru Yi
Li Ming Jun as Shao Yi Jiu
Chen Kang as Qin Shi Quan
Wu Gang as Meng Guo Hong
Wang Zi Qi as Lou Ming Ye
Xiang Yu Xing as Xi Gu
Jenny Zeng as Yan Dai
Lin Yan Rou as Xu Zhi Yi
Guan Ya Jun as Ran Dong Yang
Xie Xin as Xia Wan
Xu Hong Hao as Han Bei Yao
Main Characters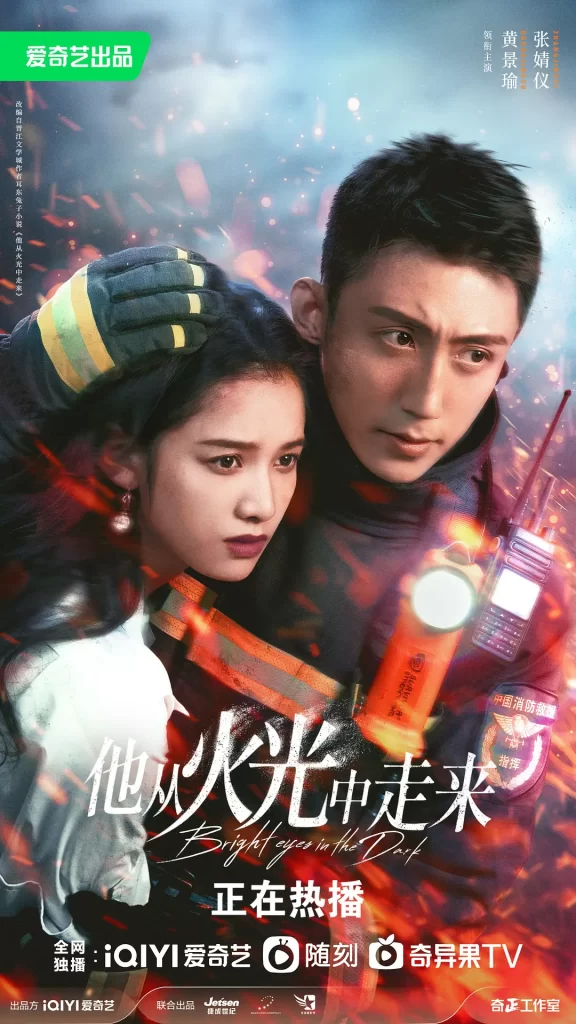 Lin Lu Xiao
Lu Xiao is a firefighter and the Director of Heping Road Special Division Station. He leads all the firefighters in the station and has a serious attitude towards his work. While he can be stern towards his subordinates, he is also protective of them. Hence, they share a close bond as co-workers. Lu Xiao is a straightforward man.
Nan Chu
Nan Chu is a struggling dancer in a dance club which is short of money. Dancing is her world and Nan Chu is a persistent young woman who doesn't give up easily. She is also not one to be bullied and gutsy enough to stand up for what is right. Nan Chu has a distant relationship with her mother who disapproves of her profession.
Supporting Characters
Jiang Ge
Jiang Ge is a rich man's son. His father runs an entertainment company. Jiang Ge doesn't get along well with his father who disapproves of his lifestyle and unconvinced of his ability. He is into extreme sports during his years abroad before being told to return home.
Lin Qi
Lin Qi is Lu Xiao's younger brother who has just returned from abroad. He is also Nan Chu's good friend. Lin Qi is a violinist who is trying to make a name for himself. He is a good-natured young man.
Yang Zhen Gang
Yang Zhen Gang is the Instructor of Heping Road Special Division Station. He shares the responsibility of leading the team of firefighters with Lu Xiao. Both of them are also good friends and comrades. Zhen Gang has a patient and measured temperament with his amiable personality.
Yu Qi Lei
Yu Qi Lei is the Deputy Director of Heping Road Special Division Station. He used to be a structural engineer before joining the fire and rescue services. Yu Qi Lei is a mild-mannered man. He loves his job but it often puts him in conflict with his wife due to the hours away from home. The couple also has a young daughter.
Liu Ru Yi
Liu Ru Yi is an experienced firefighter and Lu Xiao's assistant. He is also the leader of Combat Unit 1 and a fitness buff. Liu Ru Yi can be impulsive but will listen to Lu XIao's command. He has a crush on a doctor but is too shy to express his feelings for her.
Shao Yi Jiu & Qin Shi Quan
Both Yi Jiu and Shi Quan are good friends and rookie firefighters under Lu Xiao's command. They are idealistic but immature and inexperienced. This caused them to end up inviting trouble at times. Other firefighters in the team include Qi Huo and Lei Da Gang
Meng Guo Hong
Meng Guo Hong is Lu Xiao's and Yang Zhen Gang's superior. He is stern when needs to be but can be softhearted and understanding as well.
Lou Ming Ye
Lou Ming Ye is the Inspector of Beixun City Fire & Rescue Brigade. He is a very rigid and disciplined man whose duty is to ensure rules are followed which may not be practical in real life situations at times. Hence, Lou Ming Ye and Lu Xiao don't really get along due to their different views at work.
Xi Gu
Xi Gu is a makeup artist and personal assistant to Nan Chu. The girls share a good relationship.
Yan Dai & Xu Zhi Yi
Yan Dai is an actress who has been in the industry for a number of years while Zhi Yi is still a newcomer. Both of them are jealous of Nan Chu but Yan Dai is more matured and cautious compared to Zhi Yi.
Ran Dong Yang
Ran Dong Yang is a veteran in the entertainment circle with much influence. He appears as friendly and a gentleman but is actually a hypocrite.
Xia Wan
Xia Wan is a ER doctor at the city hospital. She is a cool woman and is Liu Ru Yi's love interest.
Han Bei Yao
Han Bei Yao is the owner of an artiste management company and Nan Chu's boss. He sees a potential in Nan Chu and wants to nurture her to be a star. Shen Guang Zong is his subordinate who manages Nan Chu as an agent.
Synopsis
In 2014, Lu Xiao saved Nan Chu from a fire as a visiting firefighter from another city. She couldn't see his face clearly but he left a deep impression on her. Later on, she mistakenly thought that he had died on another mission.
Fast forward to 2019, Nan Chu is now a struggling dancer who is forced to join the show business to earn money to keep her dance club going. She meets Lu Xiao again in the course of work but they have no idea that their paths have crossed 5 years earlier. When Nan Chu is sent to be part of a reality show to showcase the daily work of firefighters, she begins to get attracted to Lu Xiao and vice-versa.
While Nan Chu has to put up with jealous fellow artistes and struggles after joining the entertainment circle, Lu Xiao has to face the challenges of leading his men in both daily operations and dangerous firefighting missions. Hardship and setbacks await along the way which Lu Xiao and his team have to overcome. Things get worse when the team camaraderie is lost with the arrival of a new station director. As Nan Chu's career takes off, it also puts pressure on her relationship with Lu Xiao.
Bright Eyes In The Dark Ending & Recap (Spoilers Alert!)
Bright Eyes In The Dark has an open ending. A major forest fire breaks out in Lushan in Episode 39. Nan Chu gets caught up in the fire as she is there for a movie shoot. She manages to link up with Lu Xiao through a walkie-talkie but lost contact thereafter. However, she is saved by ranchers in the area and gets out alive together with Xi Gu and Shen Guang Zong.
Lu Xiao has to go further into the mountains to save a few villagers. Nan Chu is worried over his safety after they lost contact. Despite the danger, Lu Xiao escapes death to reunite with Nan Chu for a brief moment in Episode 40. They share a kiss before he has to go back to fight the forest fire with other firefighters.
The scene then jumps to Nan Chu's dance performance which pays tribute to the country's firefighters while Lin Qi plays the violin. Liu Ru Yi and a few other firemen are there to watch her performance with tears streaming down their faces. Lu Xiao is shown appearing late as he quietly takes a seat. He starts clapping his hands. Nan Chu then looks in his direction. The drama ends with her smiling and looking towards an empty seat. It appears as if she is imagining that he is there to watch her dance when he is actually not in the audience. So, whether Lu Xiao is dead or alive is open to interpretation.
When Did The Leads Get Together?
Nan Chu and Lu Xiao begin to develop feelings for each other in Episode 13. She sees Lu Xiao as a hero and feels secure when he is around while he thinks that she is kind and softhearted inside. In Episode 14, Lu Xiao saves Nan Chu again from a fire at a warehouse and they find out that he had also rescued her from a burning building 5 years earlier. He tries to kiss her in Episode 15 but gets interrupted by Xi Gu. However, their feelings for each other is clear.
The couple have their first date in Episode 16. In Episode 18, Nan Chu tells Lu Xiao that she has already fallen for him before knowing that he was her rescuer 5 years ago. She is also sure that she could handle the stress of being with a firefighter despite the risk of his profession. Nan Chu assures Lu Xiao that she is willing to accept him and his job after a dangerous firefighting mission that could have taken his life.
Is There Any Breakup?
Xu Zhi Yi and Ran Dong Yang collude to expose Nan Chu and Lu Xiao's relationship in Episode 32. They claim that Lu Xiao and his team prioritized Nan Chu's rescue over hers when both women were trapped during a fire. This caused them to be put under the spotlight which also affected the firefighting teams reputation. The pressure from the press and netizens means they can't be seen together.
In Episode 34, Nan Chu and Lu Xiao talk things over. She feels sorry for causing problems for him and his team due to her celebrity status. They decide that they should move forward and strive to become better people. Lu Xiao also feels that Nan Chu has matured and that he has nothing left to teach her. So, he encourages her to widen her horizons and see more of the world. They do not know when they will meet again but when they do, they hope that they will be a stronger and better version of themselves.
In Episode 35, Lu Xiao asks for a transfer to a mountainous area in Lushan to learn about fighting forest fires while Nan Chu leaves for the US to take up dance classes. She returns to the country in Episode 39 to shoot a movie in Lushan.
Is There Any Love Triangle?
There is no love triangle although Jiang Ge tries to get a feel of Nan Chu's thoughts on him in Episode 9. She simply tells him that he is not her type. Jiang Ge has to move on when he learns that Nan Chu and Lu Xiao are dating in Episode 16.
Nan Chu's Parents
Nan Chu's mother, Nan Yue Ru, is revealed to be an international actress based in the US by the press in Episode 32. She and Han Bei Yao go back a long way and they are old friends. That is why Han Bei Yao always has Nan Chu's interest at heart. Nan Chu doesn't have a good relationship with her mother whom she sees as controlling. Nan Yue Ru appears in Episode 34 and wants Nan Chu to follow her back to the US after Nan Chu's relationship with Lmu Xiao attracted negative publicity.
They quarrel over it and Nan Yue Ru finally tells Nan Chu that her (Nan Chu's) father was a firefighter who died on duty fighting a forest fire before she was born. Nan Chu understands her mother better after reading her diary and learning the pain and struggles that she had gone through. But Nan Chu feels that her mother had loved the right man and tells her so in Episode 38.
Nan Chu's father was Li Xue Jun who happened to be Lu Xiao's father's ex-subordinate. Thus, when Lu Xiao decides to go to Lushan to join the forest fire fighting team, his father gave him Li Xue Jun's diary. That is how Lu Xiao discovers that Li Xue Jun was Nan Chu's father.
Key Events
Yang Zhen Gang is injured during a major fire incident in Episode 17. His leg is amputated in Episode 18 and he wants to commit suicide in Episode 19. Li Lei helps to pull him back from the brink. She works in the Command Centre and her voice has always captivated Yang Zhen Gang. They eventually got married and Li Lei is shown to be pregnant in Episode 39.
Lou Ming Ye takes over as Director of the Heping Road Station in Episode 19. His management and training method caused a split in the firefighters' team. Realizing his failure, he asks for a transfer in Episode 29 but Lu Xiao scolds him and the whole team to bring back the spirit of togetherness. Lou Ming Ye cares for his charges but just doesn't know how to express it.
Nan Chu's career starts taking off in Episode 29.
Yu Qi Lei dies in Episode 32. He sacrifices himself to save a man trapped under the rubble of a collapsed building which has been constructed illegally using substandard materials. The man is Chen Yi Long who is Lei Da Gang's childhood friend as well as owner of the building.
Lei Da Gang blames himself for Yu Qi Lei's death as they were in the rubble together. He beats up Chen Yi Long while intoxicated and is arrested in Episode 33. As a result, he has to leave the service in Episode 34. Lei Da Gang dies in Episode 38 when he rushes into a burning building to save people. He happened to be nearby and his firefighter's spirit remained in him despite having left the service.
Jiang Ge decides to become a fireman in Episode 36.
Liu Ru Yi and Dr. Xia have registered their marriage in Episode 39.
Bright Eyes In The Dark Review – Nothing New
Bright Eyes In The Dark doesn't really have anything new to offer for a firefighters drama. While there is romance, a large part of the drama showcases the lives of a bunch of firemen with their daily struggles. So, you will find a few supporting characters being given more airtime for their story that ranges from a loss of a limb to financial issues. Throw in the problem of a horrible new superior and the drama easily stretches out to 40 episodes.
Don't get me wrong. Some of the scenes surrounding the firefighters are pretty touching. Thus, they are quite well-done to evoke the right emotions in you as you feel for the burdens the firemen are carrying. But this kind of story also gives it a sense of predictability that one of them is going to die or get seriously injured while on duty. Well, it is a drama that glorifies firemen after all and sacrifices are a necessary part of it. It is just a matter of how much the characters' life stories are able to move you for you to really enjoy all the 40 episodes. If you find them pointless, then the plot is going to feel like it is going nowhere halfway through.
Personally, I'm okay with the supporting characters getting some of the limelight. What bothers me is actually the exaggerated story surrounding the main leads and the ending. The drama starts off slow and it reminds me of A Date With The Future with the guy saving the girl in the past. The difference is you don't have a stalking female lead here. But you have forced coincidences that aren't very realistic.
Unrealistic Plot (Spoilers Alert!)
In the whole drama, the female protagonist is caught up in a fire 4 times. Somehow, this just feels too deliberately done to showcase her self-sacrificing nature and the need for the hero to come and rescue her 3 out of the 4 incidents. This is where the story fails for me. How many times can one be at death's door due to a fire in different locations in a span of 5 to 6 years?
I guess by the time you reach the third fire incident, you are already too far in to stop watching. Basically, I learned to ignore the plot by then and just concentrate on the excitement of the fire scenes. So, it is fine if you like the tense firefighting scenes and don't care much for the plot. Because some parts of it just defy logic. For instance, a fireman who has just lost one of his legs and couldn't even get himself to the toilet could be seen on the edge of the rooftop with the intention to commit suicide next.
On top of that, the problem with the main couple's relationship is not effectively fleshed out. They decide to separate due to the negative press which is also affecting the guy's work. It is a wishy-washy kind of breakup that is not exactly a breakup. They just decide to go and see the world a bit more on their own without knowing when they will meet again. In the meantime, they don't contact each other and we are not told why they feel the need to remain distant. In short, it is a romance that lacks depth to me.
A Bad Taste Ending (Spoilers Alert!)
The ending is another aspect that doesn't endear me to the drama. I can accept an open ending but this one just feels overdone. There are already 2 deaths in the same firefighting team in the last quarter of the drama before we reach the end. Another death is just over the top in my opinion. Although there is no confirmation that the male lead died in the last fire battle, you can't help but think that it is a possibility given how the last scene played out. So, be forewarned that there is no closure when the drama ends with the non-confirmation.
Personally, I don't think Bright Eyes In The Dark is the kind of drama that is suitable for an open ending. This is a simple story about a firefighter and there is no point complicating it with an open ending. A certainty to his fate would be a more fitting script. If he dies, there should be a send-off fit for a hero. And if he lives, there should be a sweet ending scene to show that his life is always on the line and every moment together with his beloved should be cherished.
As it is, there is only a brief 1 minute reunion after a year of separation for the main leads before the guy's fate is left to your interpretation. So, there is no satisfaction to the romance and I think the open ending just makes it worse. This is why it seems to leave a bad taste in the mouth when the credits start to roll.
Acting & Chemistry
It is quite surprising to see a few relatively well-known actors taking on supporting roles in Bright Eyes In The Dark such as Zhang Ling He and Daddi Tang who have been main leads in My Journey To You and My Little Happiness respectively. However, they don't have enough screen time to actually make an impact in Bright Eyes In The Dark. As the male lead, the spotlight falls on Johnny Huang who plays Lu Xiao. His portrayal isn't outstanding but natural enough to look convincing as a firefighter and team leader.
I feel that Zhang Jing Yi is better in Lighter And Princess with a more intense performance there. In Bright Eyes In The Dark, she is supposed to be a dancer but her dancing moves seem to lack the gracefulness needed in some scenes. Both Johnny Huang and Zhang Jing Yi also acted as a couple. Their chemistry is palpable but it doesn't leave a lasting impression on me. The dating and kissing scenes are sweet and exciting while they last but there is no urge to rewatch on my part.
My Verdict – Not That Great Overall
Bright Eyes In The Dark is just okay for a firefighters drama. If you like a sweeter and more lighthearted romance of this genre, then go for A Date With The Future. If you want more depth in the romance, then try Fireworks Of My Heart although you will get a depressive female lead and her toxic mother in that one. The romance in Bright Eyes In The Dark is somewhere in between these 2 dramas.
I tend to think this is probably where the problem lies. It doesn't have sufficient sweetness and fluff to make our sugar level go up. At the same time, neither is it emotionally touching enough for a serious romance. So, it runs short on both ends that the romance doesn't seem to be able to produce enough magic to make it memorable. Therefore, if you are in this for the love story, I'm not sure if it will satisfy you especially with the kind of ending that we have.
However, if you are watching for the brotherhood and team spirit of a group of firemen and their firefighting scenes, then this may be more worthwhile for you. While there is nothing extraordinary in their stories, there are moving moments in the subplots that are well-executed. So, for this Bright Eyes In The Dark review, I would give it a rating of 7/10 as I'm not too fond of the slow start and the messed up ending. While it is not that great overall, neither is it a horrible drama. It should be good enough for fans of this genre and more enjoyable if you ignore the plot details which can be unrealistic at times.