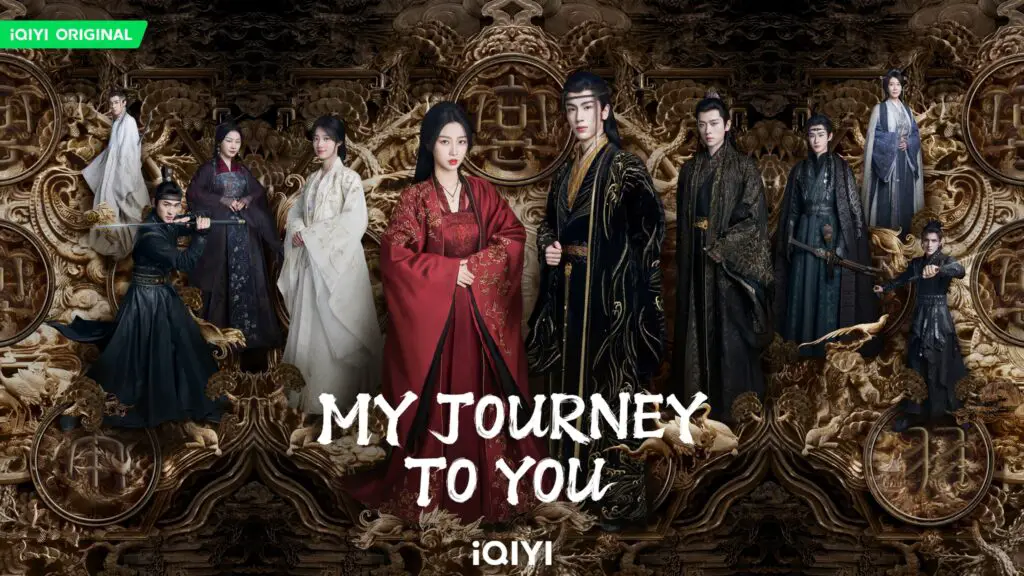 It has been more than 2 weeks since I put up a drama review. This is because it has taken me a long time to complete My Journey To You (云之羽). I find the pacing to be incredibly slow that I just didn't have the urge to binge watch this. Perhaps this is just not my cup of tea although I can't say that the drama is awful. It has its strengths which I will highlight below together with the not so flattering views that I have on this drama. So, check out My Journey To You review below for more details.
My rating: 7.5/10
Episodes: 24 (60 minutes per episode)
Type: Historical Romance
Aired: September 2023
Images Credit: iQIYI Facebook
The Cast Of My Journey To You
Esther Yu Shu Xin as Yun Wei Shan
Zhang Ling He as Gong Zi Yu
Ryan Cheng Lei as Gong Shang Jue
Lu Yu Xiao as Shangguan Qian
Jolin Jin Jing as Gong Zi Shang
Sun Chen Jun as Jin Fan
Tian Jia Rui as Gong Yuan Zhi
Wen Zheng Rong as Ming Wu Ji / Lady Wu Ji
Ji Ling Chen as Gong Huan Yu
Omid as Han Ya Si
Zuo Ye as Young Master Yue
Chen Du Ling as Lady Lan
Zhang Xue Han as Zi Yi
Main Characters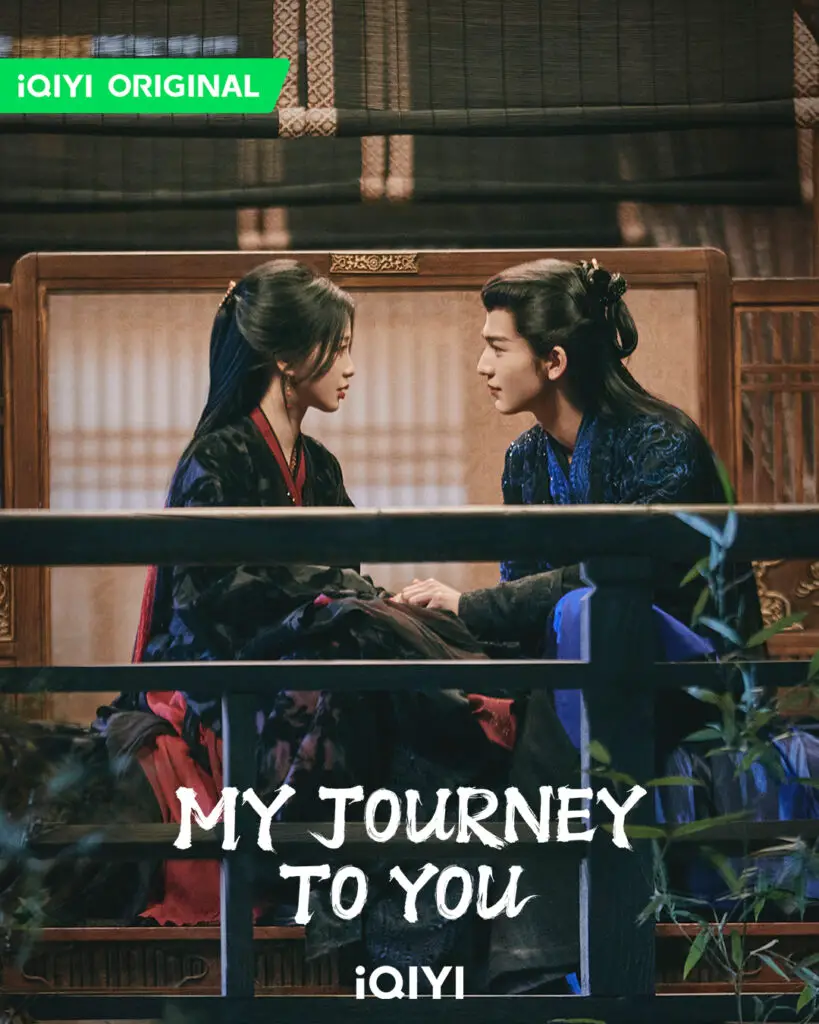 Yun Wei Shan
Wei Shan is a spy from the lowest rank faction of an organization called Wu Feng. She is smart and observant. While she is also trained to be mission-oriented and her life depends on her success in completing a given task, she is not a heartless person. Wei Shan is longing for freedom and to break away from the control imposed by Wu Feng on its spies.
Gong Zi Yu
Zi Yu is the younger son of Gong Hong Yu who is the leader or Sword Wielder of the Gong Residence which has 4 lineages. He belongs to the Yu lineage which deals with the internal affairs and defense of the Gong family. Zi Yu is known as a loafer and has a reputation of a playboy although he is a smart and insightful person. He has a poor relationship with his father while his mother died when he was young. However, he has an elder adoptive brother who is protective of him.
Supporting Characters
Gong Shang Jue
Shang Jue is the head of the Jue lineage of Gong Residence. He has proven himself to be capable and handles the external matters of the establishment. He is a good fighter and has a sharp and rational mind. However, Shang Jue can be ruthless when crossed. He also has his own private agenda.
Shangguan Qian
Shangguan Qian is a Wu Feng spy. She belongs to the Mei faction of Wu Feng. She is soft-spoken but is a scheming lady who would sacrifice others to achieve her goal. Shanguan QIan is smart and has some medical knowledge.
Gong Zi Shang
Zi Shang belongs to the Shang lineage of Gong Residence. The Shang lineage is responsible for forging weapons for the establishment. Zi Shang is close to Zi Yu who regards her as a sister. She is also an amusing and shameless woman who is obsessed over Jin Fan.
Jin Fan
Jin Fan is Zi Yu's personal bodyguard. He has been trained from young to protect Zi Yu. Jin Fan is a skilled martial artist and loyal subordinate.
Gong Yuan Zhi
Yuan Zhi is from the Zhi lineage of Gong Residence. The Zhi lineage is adept of using poisons and hidden weapons of which Yuan Zhi excels in. He is also Shang Jue's foster younger brother. Yuan Zhi is ruthless and can be impulsive. He also doesn't trust others easily.
Ming Wu Ji / Lady Wu Ji
Lady Wu Ji is Gong Hong Yu's wife and Zi Yu's stepmother. She appears as a dutiful wife who has settled in Gong Residence for years.
Gong Huan Yu
Huan Yu is Zi Yu's adoptive elder brother and potential successor to their father as the Sword Wielder of Gong Residence. He is a loving bother who is always protective of Zi Yu.
Han Ya Si
Ya Si is Wei Shan's teacher and superior in Wu Feng. He cares about Wei Shan's life and wants her to succeed but is powerless against the established rules and orders of the organization.
Young Master Yue
Young Master Yue is the son of Elder Yue who is one of the 3 elders of the Gong Residence.
Lady Lan
Lady Lan was Zi Yu's mother and Gong Hong Yu's official wife. She was rumored to be pregnant before marrying Zi Yu's father and was cold towards her son. Lady Lan died when Zi Yu was still a young boy.
Zi Yi
Zi Yi serves men in a leisure house and her place is Zi Yu's favorite haunt when he wants to destress.
Synopsis
Wu Feng and Gong Residence are sworn enemies. They are both equally strong and it is not easy for one to defeat the other. Hence, Wei Shan is sent to infiltrate Gong Residence by pretending to be one of the bridal candidates for the heir of the family. However, Wu Feng and Gong Residence have their own internal factions inside their respective organizations. These factions do not see eye to eye with each having their own agenda.
Zi Yu is an idler who ends up being the leader of Gong Residence when his father was murdered. Shang Jue from a rival faction is not agreeable to the appointment and both men are at odds with each other. At the same time, Wei Shan discovers that Wu Feng has sent another spy, Shangguan Qian, to infiltrate Gong Residence. They both need to accomplish their mission or the poison they are forced to ingest before they were sent out will ravage their body. While they need to cover for one another, they are also distrustful of each other as their lives are at stake and they may need to sell out the other to accomplish the task given.
The conflict intensifies when Zi Yu picks Wei Shan to be his bride while Shang Jue picks Shangguan Qian. As Zi Yu tries to secure his position as the new leader and Shang Jue hunts for the Wu Feng spies, Wei Shan's and Sangguan Qian's identity are at risk of being exposed. On top of that, there is another anonymous agent from Wiu Feng among them. Complications arise for Wei Shan when she begins to feel touched by Zi Yu's love and kindness towards her.
My Journey To You Ending & Recap (Spoilers Alert!)
My Journey To You has an inconclusive ending. Zi Yu cooperates with Shang Jue to lure Wu Feng into a trap in Gong Residence as Wu Feng wants their blueprint to dominate the world. A fierce battle ensues. The elite fighters of Wu Feng are killed including Zi Yi who is shot by Han Ya Si. The latter sacrificed himself to save Wei Shan during the battle. For Gong Residence, Elder Hua, Young Master Hua, and Xue Gong Zi are killed.
During the commotion, Huan Yu sneaks in to steal the blueprint. But he is flushed out in the end and defeated by Zi Yu and Wei Shan in a duel. During the fight, Shangguan Qian picks up the blueprint that Huan Yu has dropped. But she is stopped by Shang Jue. Shangguan Qian then claims that she is pregnant with his child. She also tells him that they have the same goal of eliminating Wu Feng. Shangguan Qian's Gushan Sect was wiped out by Wu Feng in the past. Shang Jue lets her go after he has quietly stolen back the blueprint from her sleeve pocket. They still think of each other after the separation.
A letter purportedly left by Han Ya Si to Wei Shan mentioned that she is indeed a daughter of the Yun family and she has a twin sister. Wei Shan took over her sister's identity to be a bridal candidate in the beginning of the drama. Before leaving Gong Residence to visit her family, she promises Zi Yu that she will return to be with him. But she fails to do so as Wu Feng is waiting for her at her family home. As Zi Yu waits for her, the drama ends with the sound of the doors opening and Zi Yu's shock expression.
When Did The Leads Get Together?
Zi Yu kisses Wei Shan after saving her from drowning in Episode 10. His feelings for her is clear. He also tells Wei Shan that she is the most important person in his life in Episode 15 when he consumes the same poison that is afflicting her in order to test out the antidotes. However, Wei Shan tells Zi Yu that she doesn't like him when he asks her about her feelings while she is under the influence of a drug that could compel her to answer truthfully to any questions asked.
Zi Yu refuses to believe Wei Shan has no feelings for him though and he is proven correct in Episode 16. There is only 1 antidote available while both of them are poisoned. Wei Shan would rather die than consume the antidote which she forces it down Zi Yu's throat. Xi Yu also doesn't mind that Wei Shan is a Wu Feng spy after he discovers her identity in Episode 17. She also admits her feelings for him when he asks her about it in Episode 20. Zi Yu assures Wei Shan that he will always choose and protect her despite her being from Wu Feng.
When Did Zi Yu Find Out About Wei Shan's Identity?
Zi Yu finds out that Wei Shan is from Wu Feng in Episode 17. He recalls Wei Shan and Young Master Yue have the same name, Yun Que, engraved on their accessories. Together with Jin Fan's information, Zi Yu pieces things together and eavesdrop on their conversation. That is how he learns that Wei Shan is a Wu Feng spy and confronts them.
Is Young Master Yue A Wu Feng Spy?
No, Young Master Yue is actually a good man. In Episode 17, he reveals his story to Zi Yu and Wei Shan about his relationship with Yun Que who was Wei Shan's foster sister in Wu Feng. Yun Que was sent on a mission to steal a herb elixir from Gong Residence 2 years ago but was caught by Yuan Zhi. She was saved by Young Master Yue. To keep her alive, Young Master Yue proposed to Zi Yu's father, who was Gong Residence leader at that time, to use her as a medicine tester.
Young Master Yue gradually fell in love with Yun Que. He asked her to remain in Gong Residence but she knew Wu Feng will just sent more spies to look for her if she goes AWOL. Thus, Young Master Yue came up with a plan to fake Yun Que's death. He gave her a concoction that could fake her death for 3 days and had her "corpse" hung up publicly to give Wu Feng the idea that she has died.
However, Wu Feng managed to retrieve Yun Que's body. Its leader killed her after seeing through her plot. She then ordered Ya Si to deceive Wei Shan that Yun Que was killed by Gong Residence.
Zi Yu's Paternity
Zi Yu's biological father has always been a subject of gossip as his mother is rumored to have a lover before marrying into the Gong Residence. Furthermore, Zi Yu was born early. Shang Jue tries to use Zi Yu's paternity to deny him the position as the next leader and seeks cooperation from Lady Wu Ji to tell the truth. Lady Wu Ji was Zi Yu's mother's long-serving servant and would have inside knowledge of Lady Lan's affairs. She leads Shang Jue on by pretending that Zi Yu's biological father is his mother's lover but turns the tables on him with the truth in Episode 11.
Zi Yu was born premature because Lady Lan was in poor health and the medications that she had been taking induced an early delivery. Lady Lan and Shang Jue's mother shared the same surname and were pregnant at the same time. Hence, their medical records could be easily mixed up to indicate that Lady Lan was healthy when she wasn't.
Lady Lan did have a lover before marrying Zi Yu's father who fell in love with her at first sight. Her lover was a poor scholar and her family was against their relationship. Her father then sent her to Gong Residence to be a bridal candidate and she was picked by Zi Yu's father to be his wife. Lady Lan was depressed throughout her stay in Gong Residence as she couldn't forget her lover. She felt conflicted and died a depressed woman when Zi Yu was still a kid.
Who Is The Anonymous Spy?
The anonymous spy from Wu Feng is Lady Wu Ji which is revealed in Episode 9. Wei Shan suspects Lady Wu Ji is from Wu Feng from her martial arts moves during a fight between them. Shangguan Qian learns about Lady Wu Ji's identity in Episode 13 while on an investigative mission. However, Lady Wu Ji uses Shangguan Qian as a scapegoat instead to erase the suspicions on herself as a Wu Feng spy when Shang Jue starts asking the right questions.
In Episode 20, the whole background story of Lady Wu Ji is revealed through a flashback. She has long betrayed Wu Feng after her identity was exposed by Zi Yu's father who had investigated her background. He revealed to her that she has been deceived by Wu Feng. Lady Wu Ji's father was an excellent weapons forger and Wu Feng threatened to kill his family to force him to work for them. Her father left with her younger brother but she thought they had abandoned her. After she found out the truth, Zi Yu's father gave her a chance and she chose to stay to serve him.
Lady Wu Ji assumes that her family members are long dead until she is given a sign that her brother might still be alive in Wu Feng. Thus, she is deceived by Huan Yu to cooperate with him to eliminate Wu Feng to save her brother. Lady Wu Ji is subsequently strangled by Huan Yu until she is on the brink of death after she has outlived her usefulness to him in Episode 20. She couldn't talk by them and is ordered to be killed by the elders for being a Wu Feng spy.
Who Is The Ultimate Villain?
The ultimate villain is Huan Yu. Wu Feng is after Gong Residence's Infinite Heat blueprint which can allow the party which activates it to dominate the world. However, all the previous Sword Wielders of Gong Residence have been prudent not to activate the blueprint due to its power which can create huge casualties. In Episode 20, Zi Shang witnesses Huan Yu killing Lady Wu Ji from afar. Although she didn't manage to see who is the killer, she realizes it is Huan Yu a short while later. Huan Yu tries to silence her through an explosion in Episode 21 but she survives to tell ZI Yu the truth.
Hence, Zi Yu could already guess it is Huan Yu who has stolen the blueprint when it goes missing in Episode 23. When confronted, Huan Yu argues that they should activate the blueprint to wipe out Wu Feng and create a new path for Gong Residence rather than being confined to the valley. He had argued with his adoptive father over it but the latter disagreed with his views. His father also wanted to change his successor to Shang Jue. This compelled Huan Yu to kill his father.
Huan Yu also manipulated events to ensure Zi Yu got appointed as the Sword Wielder as he thought a weak Zi Yu could be his pawn. He then deceived Lady Wu Ji to create turmoil in Gong Residence. His plan was to get the elders to activate the blueprint as Wu Feng circles in for the kill. When that failed, Huan Yu seek out Shangguan Qian to lure Wu Feng into Gong Residence. During the battle between the 2 sides, Huan Yu could then steal the blueprint.
Zi Yu and Wei Shan defeat Huan Yu in a fight and is imprisoned in Episode 24.
My Journey To You Review – Suspenseful But Slow-Moving
Personally, I find My Journey To You to be excruciatingly slow-moving. The longer one hour duration for each episode makes me even more reluctant to binge watch the drama. It has a dark tone from the start which gives it an air of mystery and suspense. So, it is easy to get drawn into it at the beginning. But it is a story with a long set up and dominated by conversations spoken in hushed and measured tones. Although there are some fighting scenes, this is not a wuxia drama in the mold of Side Story Of Fox Volant. This is more similar to The Wind Blows From Longxi with spies at work.
I crawled through 15 episodes before the story starts to pick up for me. Basically, you have an organization sending female spies masquerading as bridal candidates into enemy camp. The people are all distrustful of each other even though they may belong to the same organization. Therefore, the long, drawn out set up lay the foundation to the story as the distrust among the characters needs to be played out. I think this is where the story seems to be going in circles for me which contributed to the slow pacing.
However, the drama can be intriguing as you are not told who is the bad guy. Furthermore, some of these characters have their own secrets or agenda which is only revealed in a gradual manner. If you like this kind of suspense, then My Journey To You is a captivating production. It can be dull as I explained above but the last stretch may make it worthwhile if you find the first half to be slow like I did.
Not A Romance Drama
My Journey To You is not strictly a romance drama in my books. This is not anything sweet and wholesome, so don't expect it to be another Destined. In fact, the main couple's romance is rather bland to me. The male lead is simply smitten by the female lead. She doesn't have to do anything to make him fall for her. Their progress is predictable and hence, their relationship is a straightforward one.
This is in contrast to the second couple who has a much more complex relationship. There is gradual attraction but also distrust and suspicion. The girl has a mission to accomplish as a spy while the guy sees her organization as an enemy. The mind games of this couple's relationship is actually more aligned to the theme of the drama than the main couple.
Nevertheless, romance is really not the focus here. It is just a necessary part of the story that is used to heighten the sense of an impending exposure of the spies' identity and possible betrayal. It is a build up to make you anticipate certain events so that you will continue watching to see how things unfold and await those critical moments. I think this is where the drama did well. The romance itself isn't a fluffy or moving one. It is the mind games and moves the characters make that dominate My Journey To You rather than any love story.
A Meh Ending (Spoilers Alert!)
I do not know what the scriptwriter has in mind with the inconclusive ending. It leaves you with the feeling that there should be more to the story but unlike Lost You Forever S1, there is no indication that there will be a second season for My Journey To You. There are a lot of unresolved issues at the end of the 24 episodes. For instance, both the female spies have an axe to grind with the leader of their organization but they have yet to get their sweet revenge. In fact, the female lead may be under the organization's control again as she is being threatened with her sister's safety.
Therefore, you are left hanging at the end of the drama. If you have watched the modern romance drama You Are Desire, the type of inconclusive ending there is similar to My Journey To You. There are a lot of possibilities but no answer given. It is okay to have an open ending to me but it spoils the drama if the ending seems more like an end to a chapter than an actual conclusion.
Basically, the ending feeds you the idea that there will be another round of fight between the 2 enemy organizations. Since one couldn't totally wipe out the other, it makes sense that the clash between them will just go on and on. But I feel that there should be closure for the characters which is missing from the drama's ending. This is where the disappointment comes in for me.
Acting & Chemistry
It is great to see Esther Yu picking up more diverse roles than the normal chirpy and cute characters that she normally takes on such as in Love Between Fairy And Devil as well as A Romance Of The Little Forest. In My Journey To You, her character, Wei Shan, is rational and serious with a scheming mind. I like that change in scenery for her although her acting is not exactly absorbing in the drama. It is a little wooden although I suspect it also has to do with the way the character is written. Wei Shan is more like a sidekick to the male lead as she mainly lays low throughout the story.
Zhang Ling He also played his role well enough as Zi Yu to make me plough on although the drama is boring to me for more than a dozen episodes. Just like Wei Shan, Zi Yu is not really an outstanding character but the actor did what he could to make him more commanding onscreen. Instead, I think it is the supporting characters, Shang Jue and Shangguan Qian, played by Ryan Cheng and Lu Yu Xiao respectively that stole the limelight.
Ryan Cheng is perfect as Shang Jue to make you hate him at times. But he does not overdo it to the extent that the character becomes abhorrent. Lu Yu Xiao is also convincing as Shangguan Qian with her slow spoken style. Shangguan Qian obviously wouldn't want others to know what she is thinking in her devious mind and Lu Yu Xiao brings up this aspect of the character very well. You will hate her but the acting is on point as a scheming spy.
My Verdict – Make Exceptions For The Ending & Slow Pace
My Journey To You is a solid story except for the ending and the slow pacing. If these 2 things are not an issue with you, then it can well be a masterpiece in your books. This is because everything else about the drama is excellent to me. The costumes are detailed and elaborate, the location settings are scenic, and the cinematography has a movie rather than a TV drama quality to it.
On top of that, the characters are layered and complex. This sets the right feel to the tone of the drama which is largely dark and suspenseful. Basically, if you like spy stories whereby the spies are always scheming to fulfill their mission and guarding against the exposure of their identity with all the distrust and suspicions around them, then this is for you. But if you want a conventional romance, then look elsewhere.
While I find this to be slow-paced, it may not be for you if you like the subtleties of the dialogues and the long set up. This is a conversation-heavy drama whereby a lot of things are revealed through dialogues with a guess-who ring to it. It is not hard to guess who the anonymous spy might be but there is a twist at the end and the pace quickens considerably in the last few episodes.
Overall, I would give this My Journey To You review a score of 7.5/10. I'm not particularly fond of the ending and the slow pacing almost made me give up halfway. So, this is not going to get a perfect score from me. But it is worth a watch and it is not often that we get a Chinese historical drama with a spy theme.
* Amazon Affiliate Link