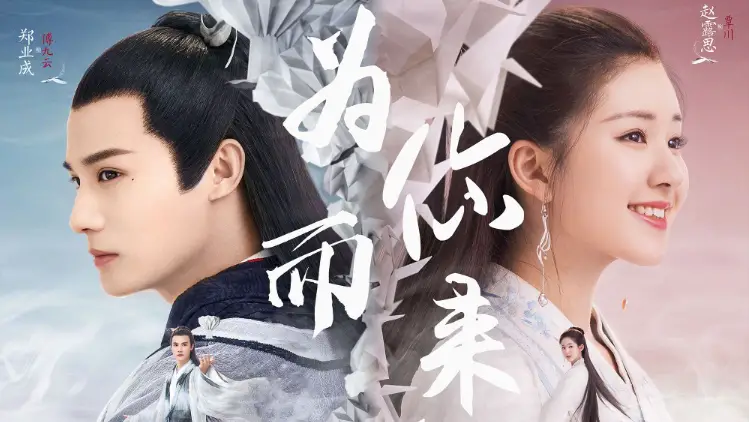 Frankly speaking, I don't know what to make out of Love Of Thousand Years (三千鸦杀) a.k.a. The Killing Of Three Thousand Crows. I was looking forward to it but after completing the drama, it leaves me with the feeling of "What did I just watch?" I guess I need to elaborate further in my Love Of Thousand Years review below to make readers understand this production and its shortcomings a little better. So, let's just start with the cast and characters before we dive into the ending and my verdict for this drama. If you have watched it, you are also welcomed to leave your comments. 🙂
My rating: 6.5/10
Episodes: 30
Type: Romance, Xianxia
Aired: March 2020
Images Credit: MGTV
The Cast Of Love Of Thousand Years
Zheng Ye Cheng as Fu Jiu Yun / Gong Zi Qi
Zhao Lu Si as Qin Chuan / Ah Man
Angelina Jiang Yi Yi as Princess Yan Yan
Molly Wang Meng Li as Xuan Zhu
Liu Yi Tong as Zuo Zi Chen
Mao Fang Yuan as Er Meng / Ting Yuan
Dai Yun Fan as Crown Prince Li Yuan
Li Ming Jun as Bai Zing Ji
Zhang Xing Zhe as Zuo Xiang
Wang Chun Yuan as Xiangqu Mountain Master
Guo Qi Ming as Demon King
Li Lu Qi as Mei Shan
The Main Characters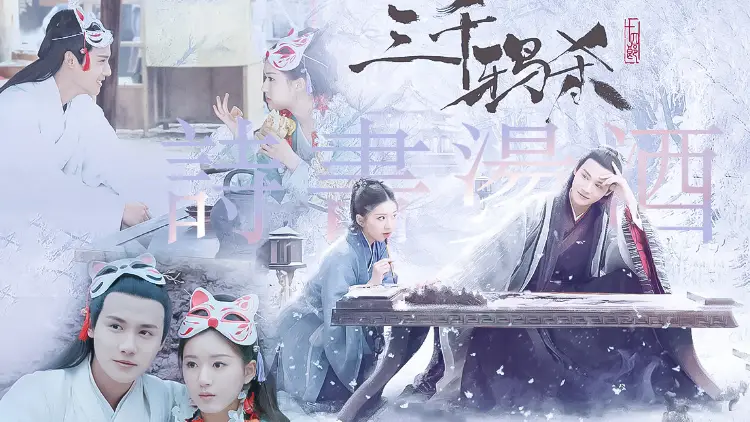 Fu Jiu Yun / Gong Zi Qi
Jiu Yun is a handsome immortal with many female admirers. He is known to be a womaniser and rumored to have killed his teacher. He has been observing Princess Yan Yan and is in love with her. In the mortal world, Jiu Yun takes on the identity Gong Zi Qi, a nobleman with a talent in art and music. He is well-known for his immersive painting which magically brings the picture to life.
Princess Yan Yan / Qin Chuan / Ah Man
Princess Yan Yan is the daughter of Li's Emperor and Empress. She is a quick-witted and carefree princess who is in love with Zi Chen. Ah Man is her personal maid. After the fall of her kingdom, her teacher gave her Ah Man's face and a new identity with the name Qin Chuan to avoid detection by the enemy. Qin Chuan is a determined woman who is willing to sacrifice her life for Li.
Xuan Zhu
Xuan Zhu is a duke's daughter and Yan Yan's cousin. She is also in love with Zi Chen. Xuan Zhu has always been jealous of Yan Yan and feels the need to compete with her.
Zuo Zi Chen
Zi Chen is the son of Premier Zuo Xiang. He is a talented man who writes good poetry and loves literature. He is also a good musician. Zi Chen is upright and holds strong to his principles. He loves Yan Yan but hates his father for betraying Li.
Er Meng
Er Meng is a dim-witted servant at Xiangqu Mountain. He is simple-minded but wants Qin Chuan to be his wife as he likes her a lot.
Crown Prince Li Yuan
Li Yuan is the Crown Prince of Tianyuan. He is a ruthless and ambitious man. Tianyuan is a country that worships demons.
Bai Zing Ji
Bai Zing Ji is an immortal who can take the form of a mirror. The mirror can then reflect a person's real identity. Bai Zing Ji is close to Jiu Yun and often takes orders from him. He is young and a little naive but loyal.
Zuo Xiang
Zuo Xiang is the Premier of Li. He wants to retire despite pleas from the Emperor. But the retirement is a ruse as he is working to betray the nation. He joins a rebellion to overthrow the Li Emperor and serves Tianyuan. As such, he has a strained relationship with Zi Chen.
Xiangqu Mountain Master
Xiangqu Mountain is the land of the immortals. The Master oversees the place but he is a greedy man who likes to collect treasures. He also likes to hone his powers using the spiritual lamp although it contains demonic forces.
Demon King
The Demon King is also the state preceptor of Tianyuan. He is advising the Crown Prince and also on the lookout for Jiu Yun and the spiritual lamp. The Demon King wants to control the 3 realms through demonic forces.
Mei Shan
Mei Shan is an immortal who likes to drink. He is a good friend of Jiu Yun and would often listen to his troubles and help him out when needed.
Synopsis
Jiu Yun has been observing the lady in a painting given by his teacher for a thousand years. He finds her in the mortal world and she is Princess Yan Yan of Li. Yan Yan and Zi Chen are lovers. But Zi Chen's father colludes with demons from Tianyuan to overthrow the Li Emperor. Yan Yan's royal family is killed and her kingdom falls. She is saved by her teacher who changes her face to resemble her maid who has died. Her teacher also gives her a new name, Qin Chuan. This is to avoid detection from enemies as she looks for the spiritual lamp which can help her to contain the demons and rebuild her country.
Her quest for the spiritual lamp lands her in Xiangqu Mountain which is home to the immortals. She meets Jiu Yun who knows she is Princess Yan Yan. While he has fallen in love with her, he is also unable to give her the spiritual lamp that she wants. Jiu Yun has been tasked by his late teacher to guard the lamp. How would things turn out as Jiu Yun and Qin Chuan fight over the lamp while they develop feelings for each other? What is the secret behind the lamp?
Where To Watch Love Of Thousand Years
This drama is available on Amazon Prime (Amazon affiliate link) with a 30-day free trial at the time of writing.
Love Of Thousand Years Ending (Spoilers Alert!)
To be honest, I have a tough time writing the Love Of Thousand Years episode summary because I couldn't understand the ending as well as some parts of the drama. You can say that it is a happy ending because the last scene is of Jiu Yun and Qin Chuan hugging each other inside a painting. This is the painting that Jiu Yun or rather his mortal identity, Gong Zi Qi, gave Princess Yan Yan right at the beginning in Episode 1.
Having said that, it is also a very confusing ending. I couldn't make head or tail of it because the second half of the last episode is a totally new time dimension or perhaps, a parallel universe. One scene is of Qin Chuan touching the lighted up spiritual lamp and vanishing into thin air together. Before you even know what is happening, Princess Yan Yan is a little girl in the next scene. She has just woken up from a nightmare in which she was told she is Qin Chuan. When she is older, she is to be married off to Er Meng. He brings her wedding gifts which include a painting of a man resembling Jiu Yun. She starts crying. Then, Yan Yan suddenly disappears or gets pulled into the painting and we end up with the hugging scene as mentioned above.
Guessing The Ending
Love Of Thousand Years is based on a novel. I have not read it. But it is pretty obvious that the screenwriters have omitted quite a few details because many things have remained unexplained. I wouldn't be surprised if they have also altered the story in the novel.
Based on the drama alone, I can only make a guess as to what the ending means. When Qin Chuan vanishes with the spiritual lamp, my guess is she dies. So, when she re-appears as a little princess again, it is her next life. She is also shown as having vague memories of a melody created by Gong Zi Qi. She also cries without reason when she looks at Gong Zi Qi's painting. Yan Yan has a sense of familiarity with things associated with Jiu Yun but she also cannot remember exactly who he is and what happened. At the same time, Jiu Yun has been waiting for her inside his painting. When she is pulled into the painting, her memories of her past life return and they finally end up together.
As for Jiu Yun, he is supposed to turn into ashes since he is the wick for the spiritual lamp. But he is also an immortal. Mei Shan did hint that Jiu Yun could slowly gather back his soul and return to life in the last episode. So, that would be the best explanation to me of how he could re-appear whole again at the end. It is like Mo Yuan in Eternal Love Ten Miles Of Peach Blossom if you are familiar with xianxia dramas.
The Spiritual Lamp Explained
The spiritual lamp could contain all the demons inside it. But it requires sacrifices to light it. The person will have to make a blood bond with the lamp. Hence, Qin Chuan pricks her finger to let her blood trickle down the lamp. Then, it needs the spiritual powers of 3 enemies which is why Qin Chuan initially thought she needs to kill Zuo Xiang, the Crown Prince, and Tianyuan's Emperor. The last spiritual power that is needed by the lamp is the person who lights it up. This is also one of the reasons why Jiu Yun tries to prevent Qin Chuan from getting the lamp. He wants to prevent her from sacrificing herself.
Once the lamp is lighted up, Jiu Yun would also die because he is the wick. His teacher has tied Jiu Yun's life to the lamp when he battled with the Demon King a thousand years ago. His teacher sacrificed 2 of the Demon King's forces to the lamp and sealed them inside Jiu Yun's body. Thus, by right, Jiu Yun has to stay away from the Demon King to prevent him form getting back his 2 forces. Otherwise, the lamp will need to be used to contain him and Jiu Yun would die in the process.
Zi Chen And Xuan Zhu
Xuan Zhu dies when she sacrifices herself to light up the lamp. As she is related to Qin Chuan, she could replace her as the 4th spiritual power to light it up. Xuan Zhu is full of self-doubt till the end. She is unsure of Zi Chen's love for her as she feels redundant and a fake princess compared to Qin Chuan. This is despite Zi Chen having put the past behind him and wants to be with her instead. Xuan Zhu loves Zi Chen and wants him to remember her forever with her sacrifice. As Zi Chen confesses his love for her, it is too late as she vanishes and dies. In the last episode, Zi Chen has become a school teacher.
Who Is Er Meng
Er Meng appears to be dim-witted in the beginning part of the drama but he is actually Tianyuan's Second Prince. This is revealed in Episode 10. He is against Tianyuan being controlled by demons and secretly plotting against his elder brother who is the Crown Prince. That is why he is also after the spiritual lamp.
In Episode 29, he helps to take down the Demon King by piercing him with his sword. In Episode 30, he is Tianyuan's Emperor. But he still thinks of Qin Chuan whom he has liked since the very beginning when he met her at Xiangqu Mountain.
Love Of Thousand Years Review – A Waste Of A Good Story
Love Of Thousand Years could really have been an epic like Love And Destiny and The Untamed if it is better laid out. But the producers have wasted a good story to me. It does have a few things going for it to make it watchable though. Firstly, the main leads make a cute couple. Zheng Ye Cheng and Zhao Lu Si did their best to display the pull of a forbidden relationship as they toy with each other. They display a chemistry that makes it easy for viewers to root for a happy ending for them.
Secondly, I feel the main cast acted well in all their roles. At least, I did not cringe at their acting throughout the drama. Zheng Ye Cheng has the aura of a flirtatious immortal and he is able to capture on-screen attention with his stares. Zhao Lu Si gives me the vibe of a carefree princess who has matured due to the tragic events that she has experienced. Molly Wang has an arrogance and evilness in her character that are tempered with self-doubt and a desire to let go. She is able to portray a character in conflict with herself. As for Liu Yi Tong, he did well as a man wrecked by guilt and loathing because of his father's betrayal.
Finally, Love Of Thousand Years is really a good story if you ignore the editing and details. The pacing is quite good as it doesn't really drag on and on like some longer dramas. I know it is hard to overlook the drama's weaknesses but do give the story a chance regardless of the ending. I think it is an interesting one but just that, it has not been fully taken advantage of to give viewers a truly epic tale.
Why You Should Drop It
Now that I have told you why you should watch Love Of Thousand Years, I should also warn you where it fails. The first thing that could put people off is right at the beginning. The drama starts with Angelina Jiang as Princess Yan Yan. Just as you think she is the main actress, that changes immediately to Zhao Lu Si in the second episode. So, the lady that Jiu Yun loves in the first episode has a totally different face in the second although they are supposed to be the same person. The plot requires the face change but to some viewers, it takes away the romanticism that is important in a love story.
The next thing that could make you drop this is the poor editing especially in the last episode. The scenes jump without proper explanation of what is going on. It could also be because the story is not being told in a right way with many things being left out and unexplained. Without the details, the drama is full of plot holes and guess work.
Another thing that annoys me is the flashbacks. It is fine to have flashbacks to emphasize a certain point or feeling but it shouldn't be overdone. In Love Of Thousand Years, I find that they have inserted one too many flashbacks that repeat the same scenes. Perhaps they want to lengthen certain episodes but I find them to be unnecessary.
Finally, the ending for this drama sucks. There is no proper clarification as to what happened. I know some dramas do leave room for viewers' imagination such as Legend Of Yun Xi. But this really takes it to another level when viewers are unsure if everything is a dream, a rebirth, or just a story in a painting.
My Verdict
As much as I want to, I can't really give a high rating for this Love Of Thousand Years review. A score of 6.5/10 is perhaps fair given its weaknesses as laid out above. I wouldn't really recommend you to watch it if you are very particular about having a good ending for your dramas. This one is most probably going to leave you disappointed.
It is also a pity that they have censored some of the kissing scenes. I know even modern dramas like Here To Heart have to take out steamy scenes to comply with the strict rules. You have the sweet moments for the main couple here but if you are expecting a bit more kisses to let you feel the love between them, it is going to fall short compared to, say, The Love By Hypnotic with its numerous intimate scenes.
Having said that, you can still watch Love Of Thousand Years for Zheng Ye Cheng. I like him from Love 020 and he has definitely matured with this role as the flirtatious Jiu Yun. Speaking of being flirty, I still prefer Ethan Juan's Wuji in Legend Of Fuyao but then, I'm sure many female viewers can't resist Zheng Ye Cheng's handsome boy looks either. 😍