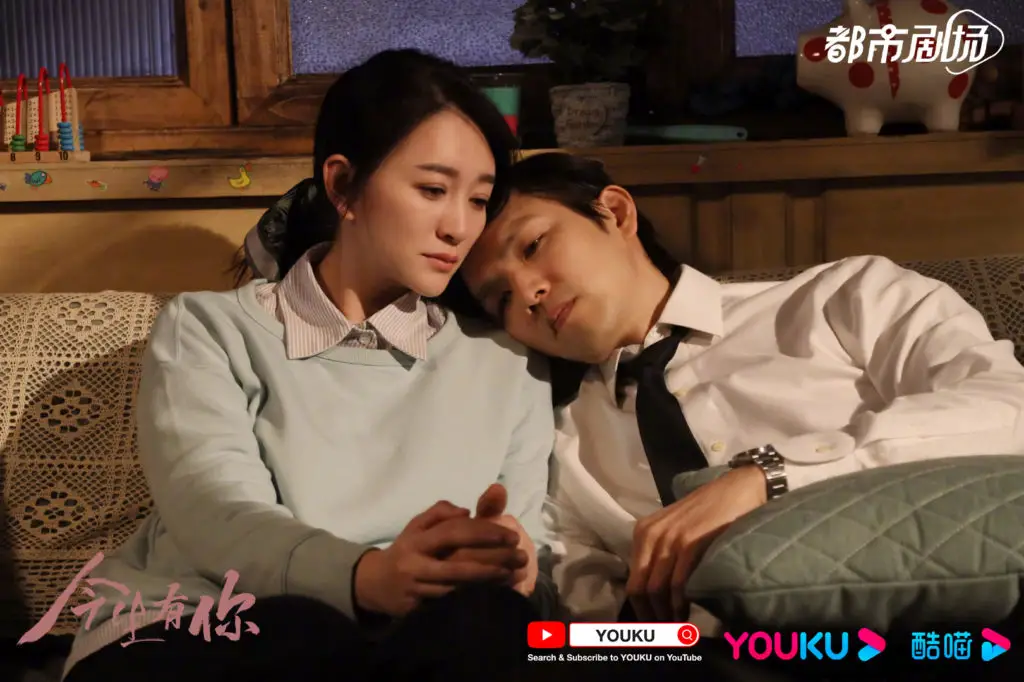 I have actually been putting off watching Because Of Love (今生有你) (also known as A Chance Meeting) until it has been fully aired. I just knew this is a drama that I need to binge watch because of the sad tone of the story. It will be too hard to wait for the next episode if the drama could really stir your emotions and weigh you down. Furthermore, melodramas isn't really my cup of tea but I also can't resist watching another Wallace Chung project. So, I completed this very quickly and the engrossing tale certainly helps in that aspect. Below is my Because Of Love review of this Chinese romance drama.
My rating: 8/10
Episodes: 30
Type: Romance
Aired: January 2022
Images Credit: Youku Twitter
The Cast Of Because Of Love 2022
Wallace Chung Hon Leung as Nie Yu Sheng
Li Xiao Ran as Tan Jing
Mi Ke as Sun Ping / Ping Ping
Lawrence Wang Xiao as Sun Zhi Jun / Jun Ge
Tian Lei Xi as Shu Qin / Vicky
Wang Yang as Sheng Fang Ting
Qin Ming Yue as Wang Yu Ling
Samuel Gu Bin as Liang Yuan An
Morni Zhang Chen Guang as Nie Dong Yuan / Chairman Nie
Liu Da Wei as Quan Yu Cheng / Secretary Quan
Xu Wen Guang as Director Fang
Main Characters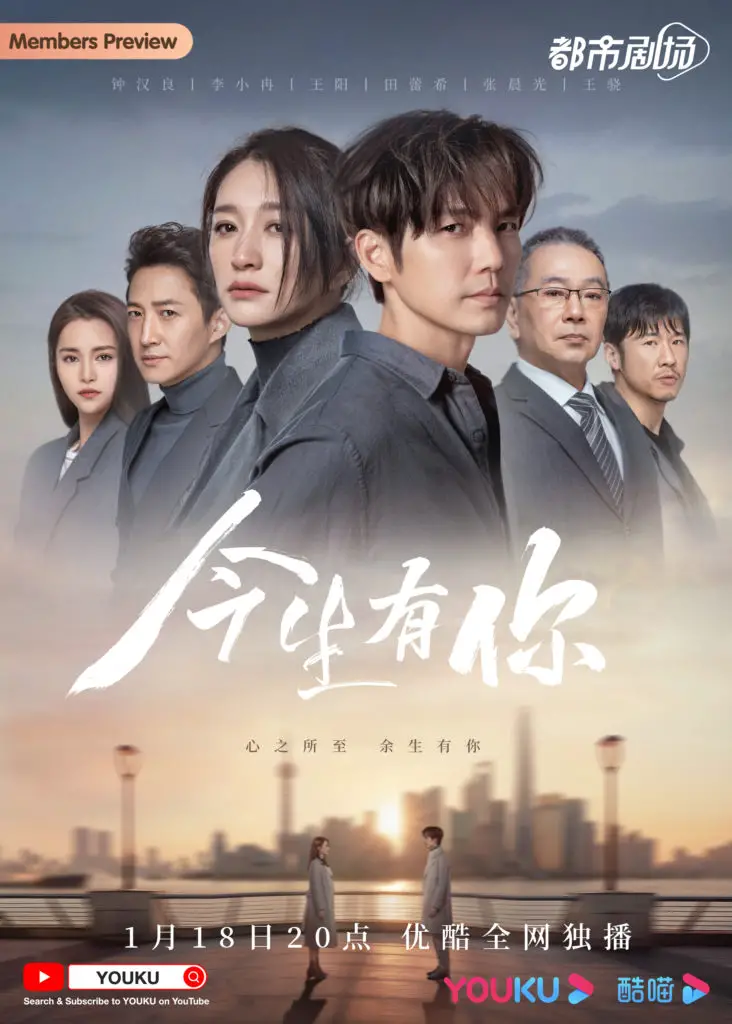 Nie Yu Sheng
Yu Sheng is a cardiologist at Shang Pu Hospital. He is a talented doctor but very reserved. He has no interest in dating as he still cannot get over his first love who left him 7 years ago. Yu Sheng also has a rich businessman father but they find it hard to get along.
Tan Jing
Tan Jing is a cashier at a bakery owned by Sheng Mei Group. She is a loving mother who is struggling to bring up her sickly son, Ping Ping, who has a congenital heart defect. She is a stoic and resolute woman due to her hard life. Despite being poor, she also has a lot of pride. Tan Jing appears married to Jun Ge.
Supporting Characters
Sun Ping / Ping Ping
Ping Ping is Tan Jing and Jun Ge's son. He is 6 years old and has been suffering from a heart defect since birth. Apart from regular check-ups and medications, he has to undergo surgery soonest possible to correct the defect. Ping Ping is a very observant and clever boy. He is very adorable and sensible and knows how to empathize and love those around him.
Sun Zhi Jun / Jun Ge
Jun Ge is a construction worker with a habit of trying to make quick money. He also likes to drink and then get into fights with others. Jun Ge can be hotheaded and uncouth but he loves Ping Ping a lot. He is a good man but with a lot of frustrations in life. Tan Jing's father was his master when he started out in the construction sector.
Shu Qin / Vicky
Vicky is the head of Human Resource at Sheng Mei Group. She is a professional with a bubbly personality. She is a sincere woman and has known Yu Sheng since their university days. They are very good friends with a lot in common. Vicky also has a failed relationship in the past which she has not completely gotten over.
Sheng Fang Ting
Fang Ting is the new Deputy General Manager of Sheng Mei Group. He is a very rational and shrewd man with a sharp business mind who knows what needs to be done. He also appears as an understanding and caring superior.
Wang Yu Ling
Yu Ling is Tan Jing's colleague and neighbor. They are very good friends who are supportive of each other. Yu Ling knows her friend's hardship and would help out wherever she can. Her mother is also Ping Ping's carer when Tan Jing has to work.
Liang Yuan An
Liang is Yu Ling's colleague as well as boyfriend. He works at the bakery as a cake decorator.
Nie Dong Yuan / Chairman Nie
Chairman Nie is the founder and major shareholder of the public listed Dong Yuan Group. He is also Yu Sheng's father. He is a stubborn man with a conventional attitude as a parent. Hence, Chairman Nie finds it hard to communicate with his son as they don't see eye to eye on a lot of issues.
Quan Yu Cheng / Secretary Quan
Secretary Quan is Chairman Nie's most trusted assistant. He has worked for Chairman Nie for a long time as they build up Dong Yuan group together.
Director Fang
Director Fang is Yu Sheng's superior and head of the Cardiology Department of Shang Pu Hospital. He recognizes Yu Sheng's potential and has high hopes on him. Director Fang is also an old friend of Chairman Nie.
Synopsis
Tan Jing is leading a hard life as she has to work and raise money to treat her young son, Ping Ping, who was born with a heart defect. The boy's father also often gets into trouble with the law which she has to handle. As Ping Ping grows older, he needs surgery as soon as possible to repair his defective heart. Due to his complicated case, Ping Ping is referred to a better hospital for treatment and surgery. As a result, Tan Jing runs into Yu Sheng again as he is a cardiologist at the said hospital.
Tan Jing and Yu Sheng used to be lovers when they were university students. They were from the same high school and he was her senior. But she broke up with him all of a sudden against his wishes. This caused him immense pain and he couldn't completely get over her even after 7 years have passed. When they meet again due to her sick son, he tries to be unaffected by her re-emergence in his life but finds it difficult not to care especially when Tan Jing just couldn't find the money for her son's treatment.
While Yu Sheng is angry with Tan Jing for leaving him and supposedly marrying another, she also has her own hatred and problems to deal with after they broke up. After 7 years, there is still a lot of pain and longing buried in their hearts. Can they untie all the knots and misunderstandings in their relationship to give their love another chance?
Because Of Love 2022 Ending (Spoilers Alert!)
Because Of Love has a happy ending for the main couple. The last scene is a photo snap of Tan Jing, Yu Sheng and Ping Ping together with Yu Ling's family. Tan Jing and Yu Sheng got back together as a happy couple after the suspicion about Chairman Nie's role in her father's death has been completely removed. Before that, she has already softened her stance towards Yu Sheng and supported him in the boardroom power struggle over the control of Dong Yuan Group. She did so when she learned that Yu Sheng had given information pertaining to Dong Yuan Group's employees to the police to re-investigate Jun Ge's death.
I see this as a recognition on her part that Yu Sheng is on her side although he was the Chairman of Dong Yuan Group at that time and it involved his father's trusted aides. It was a concrete action that she could see rather than just reassuring words that he could be trusted.
Why Did They Break Up?
Tan Jing broke up with Yu Sheng because she wanted to set him free from her troubles. As they were still very young, she knew the problems that she faced after her father's death had no easy solutions. Hence, it will just drag Yu Sheng down with her if she told him what happened. Furthermore, Yu Sheng's father was against their relationship and she suspected that Chairman Nie was related to her father's death. Thus, Tan Jing also didn't want to put him in a dilemma whereby he had to choose between them while she herself held a grudge against his father.
As a result of these various factors, she made the decision to break up with him without telling him the actual reasons. She merely told him that she was with him because of money and that his father had paid her $5 million for her to leave him. Yu Sheng found out about what happened to Tan Jing back then from a drunk Jun Ge in Episode 15.
What Happened To Tan Jing's Father?
Tan Jing's father died when a scaffolding collapsed at a construction site that had just been taken over by Dong Yuan Group. Many workers died as well while Jun Ge was injured which also rendered him infertile. Tan Jing's father was subsequently blamed for accepting bribes and employing shoddy contractors. He was a convenient scapegoat as Dong Yuan Group was preparing for listing at that time.
Hence, the dead workers' families start to harass Tan Jing for compensation. Jun Ge was also not spared as he was Tan Jing's father's pupil and the site supervisor. Fearful that Jun Ge could be jailed if she didn't pay up, Tan Jing sold her family home and took the $5 million from Chairman Nie to pay off all the claims which left her penniless.
Did Tan Jing Marry Jun Ge?
No, they were never married. Jun Ge did have feelings for Tan Jing and cared for her. But she has never seen him as more than family. She was also deeply grateful to him for giving her a home when she was at the lowest ebb of her life. He was there for her when she gave birth to Ping Ping as well. Therefore, Tan Jing decided that Ping Ping will carry Jun Ge's surname so that Jun Ge will have a descendant since he was infertile due to the construction accident.
Jun Ge may seemed uncultured and a drunkard but he was not a bad person. He was always thinking of making a quick buck because he also wanted to contribute towards Ping Ping's surgery costs. Basically, he couldn't really put the accident behind him and the frustrations built up over time which included his infertility, inability to provide for Tan Jing and Ping Ping, the one-sided love for her, and the injustice towards his late master.
Jun Ge was killed in Episode 28 which was masked as a drink driving accident. He was ordered to be silenced by Secretary Quan after he had gathered evidence of the latter's crime in the construction accident 7 years ago.
Was Chairman Nie Involved In Tan Jing's Father's Death?
No, he wasn't involved but his righthand man did without his knowledge. Secretary Quan was the man behind the shoddy contractors used and then misappropriated the money meant for the workers' compensation. The evidence came to light through a recording in the plush toy that Jun Ge had bought for Ping Ping while looking for a man who had inside knowledge of the accident. Jun Ge had turned on the recording when he forced the man to divulge what happened back then.
When Chairman Nie died of liver cancer in Episode 30, Ping Ping had recorded his eulogy for his grandfather's funeral with the plush toy. When it was played, Jun Ge's recording was exposed as well. Secretary Quan was arrested and jailed for his crimes as a result of the evidence coming to light.
When Did The Couple Got Back Together?
Tan Jing and Yu Sheng didn't really get back together until the last episode although they did have some happy moments along the way. Yu Sheng also suggested that they get married in Episode 21 when Chairman Nie and Tan Jing were arguing fiercely over Ping Ping's custody. He left the decision to her but then suffered from mental regression after a car accident in the same episode. Tan Jing helped him to recover and they got closer after he was cured in Episode 24.
However, Jun Ge's death in Episode 28 re-created a barrier between them since Tan Jing suspected that Chairman Nie's minions could be involved. She even told him that they should part ways temporarily in Episode 29. But when she learned that Yu Sheng was serious in getting to the bottom of the matter, her stance softened. All the suspicions towards his father were subsequently lifted when Secretary Quan's crimes were exposed. This paved the way for them to reunite as a couple as the last barrier between them finally crumbled.
Ping Ping's Paternity
Ping Ping is Yu Sheng's son. Tan Jing found out she was pregnant after breaking up with Yu Sheng and chose to keep it from him after all that had happened between them.
Chairman Nie suspected Ping Ping is his grandson in Episode 13 and got the confirmation via a DNA test in Episode 14. He met Ping Ping because they were staying at the same hospital. Yu Sheng also realized that Ping Ping could be his son after seeing his colleague's newborn and how they look alike. He got the answer when he confronted Tan Jing about it in Episode 14.
Somehow, Ping Ping is intelligent enough to pick up the cues and gradually knew that Yu Sheng is his biological father. They became close as Yu Sheng had been treating him for quite some time. Ping Ping addressed him as papa in a very natural way while they were playing together in Episode 24. Similarly, Ping Ping also knew that Chairman Nie is his grandfather and they shared a close bond.
Fang Ting's Past
Fang Ting is actually Chairman Nie's illegitimate son and hence, Yu Sheng's elder half-brother. He felt that his father had abandoned him and his mother when he was a kid. Thus, he had a hard life growing up and hated his father for what he had done to his mother. Fang Ting's ultimate aim was revenge and he planned to take over Dong Yuan Group to spite him.
Fang Ting schemed his way to become Yu Sheng's assistant in the company in Episode 26 and eventually bought enough shares to take control in Episode 29. Yu Sheng found out his intention and who he is in Episode 28. He had the opportunity to counter him but allowed Fang Ting to win because he has no interest to fight with him for control over the company. In fact, Chairman Nie agreed that Yu Sheng made a wise decision to give up. This is because Yu Sheng knows what is important in his life and Chairman Nie was happy that his son didn't end up like him as running the company entailed much sacrifices that could include personal values, love, and family.
When Chairman Nie signed over Dong Yuan Group to Fang Ting, he also apologized to him for abandoning him and his mother. His last advice to Fang Ting was not to end up like him with much regrets in life. Fang Ting thought his father didn't care but when Chairman Nie died, he left him and Yu Sheng an equal proportion of the shares he owned in the company. So, although Fang Ting thought he won and got control of Dong Yuan Group, it also felt like a hollow victory.
Vicky And Fang Ting's Relationship
Vicky and Fang Ting were actually lovers while they were studying in Belgium. But they broke up as Fang Ting had something to hide and was unwilling to open up to Vicky. However, they couldn't really forget each other and move on from that relationship.
Vicky and Fang Ting re-connected when they became colleagues in the same company. They slept together in Episode 15 and Fang Ting publicly announced their relationship in Episode 18. Vicky suggested that they get married out of the blue in Episode 22 but received no response from him. Fang Ting finally decided to propose to her instead in Episode 24 to which she agreed.
Vicky overheard Fang Ting's conversation with Yu Sheng about his identity and scheming to take over Dong Yuan Group in Episode 28 but still went ahead to marry him. Fang Ting denied that he got close to Vicky in order to earn Yu Sheng's trust. Although his feelings for Vicky is sincere, she still decided to leave him in Episode 30 after Chairman Nie's death. She told Fang Ting that she married him to give herself an answer of how much she really loves him as that would determine if she could accept what he had done. With Vicky's leaving, Fang Ting felt empty and abandoned again.
At the airport, Vicky read Chairman Nie's final note to her. Chairman Nie hoped that she would give Fang Ting another chance in due course as Fang Ting's hatred should gradually subside with his death.
Vicky And Yu Sheng's Relationship
Vicky and Yu Sheng are very, very good friend from their university days. They have a lot in common including their wealthy family status. They are also people with a past heartbreak who cannot let go of their first love. That was partly why Yu Sheng suggested that they try to be a couple in Episode 7. There were no other more suitable candidates and they both knew what each other have buried in their hearts. So, it was fair since they were both aware what they were getting into and they had to try to move on from their past.
However, the transition from friends to lovers was awkward and uncomfortable. When Vicky saw Tan Jing in Yu Sheng's home, she asked for break up in Episode 12. They reverted to being good friends which was a much more natural position for them. Hence, the love triangle didn't last long in the drama as both of them knew that they were in love with different people.
Because Of Love C Drama Review – Prepare Tissues!
Because Of Love is not your typical fluffy romance drama like To Fly With You or Love At Night. This has a more matured and depressive mood to it with a past heartbreak and a struggling mother who is always short of money to treat her sick son. The plot is not anything groundbreaking with a link to the past as young lovers before circumstances forced the girl to initiate a breakup which actually reminds me of Here To Heart. Then, of course, the pair meet again and all the pain is then brought to the fore. In short, this is a second chance romance story with tissues needed along the way.
So, my guess is it could be slow-moving and predictable for some. But it is also a very well-executed drama that effectively moves you and touches your heart. Just like Shining For One Thing, this is achieved through a brilliant cast, great cinematography, and a very apt setting which enhance the overall angsty mood. It is the whole package that makes Because Of Love very real to the audience. It may not have a refreshing plot but it is exactly the seemingly ordinary that makes the story relatable.
Having said that, there are also two weaknesses in the drama that I think are worth highlighting – the way the flashbacks are told and a faltering last third of the story.
Constant Flashbacks
Because Of Love relies on intermittent flashbacks to tell the viewers what happened in the past. So, the scenes will flip between the present and their student days whenever the leads are triggered into reminiscing about the past. This happens quite often in the first 8 episodes or so. It is done without warning at times and you will have to adjust to the change in time setting before it reverts back to the present just as quickly.
Therefore, if you prefer flashbacks to be told in one long sequence rather than in a back and forth manner, then Because Of Love could start off being highly annoying. Personally, it did take a few episodes for me to get used to the story telling technique. I guess this is done to heighten the viewers' angst and to emphasize that the leads are still thinking of each other after all the years apart. So, don't get turned off when you start watching and discover all these constant flashbacks. The story will grow on you and leave you with a strong desire to see the couple reconcile.
A Not So Great Last Third (Spoilers Alert!)
To me, the first 20 episodes of the drama is highly engrossing. But it starts to lose its intensity and falter in the last third. The mental regression suddenly changes the tone of the drama and Yu Sheng's recovery looks too simplistic to be real. The couple is then shown to be back together after the real culprit is exposed which has nothing to do with Yu Sheng's father.
However, the viewers are shortchanged here as there is a lack of scenes of the couple towards the end to address everything that has happened in their lives. At the very least, there should be a heartfelt communication between them after all the misunderstandings and pain. Unfortunately, there is no such satisfaction for the viewers.
As for the side couple, their ending is also a bit rushed with no proper accounting of Vicky's thought process on how she arrives at the decision to leave. It is not a bad conclusion to the drama overall but there just seems to be a few missing scenes here and there which could have increased viewers' satisfaction and fulfillment.
Wonderful Acting
The casting director deserves accolades here for picking the right people for the roles. The last time I caught Wallace Chung was in The Sword And The Brocade which is a period drama. In Because Of Love, he delivers as usual with a very convincing performance as a pensive and melancholy doctor who can't seem to get over a lost love. He is not a handsome hunk here and he doesn't try to be. Instead, he gives the character a sort of depressive vibe. The pain and yearning are written on his face that viewers will automatically feel for him.
Li Xiao Ran is also excellent as Tan Jing to me. This is a very steely but sad character due to her circumstances. So, you can see it through Li Xiao Ran's impassive facial expressions which show her determination and stoicism on the surface but her eyes will tell you how she is suffering inside. Her chemistry with Wallace Chung is also impressive as both of these veterans know how to take advantage of their characters' anger and longing for each other to set the mood in their scenes together.
Li Xiao Ran's chemistry with the child actor is also worth a mention. They manage to bring out a very special bond of mother and son and for his part, Mi Ke is a joy to watch as a viewer. For someone so young, Mi Ke delivers his lines so well and with an innocent charm that fits the character perfectly. Mi Ke and Morni Zhang's scenes are also extremely touching as both young and old seem to have a natural affinity for each other.
A Stoic And Cold Female Character (Spoilers Alert!)
I suspect that Tan Jing may not be a likable character to all. This is because she is cold and impassive on the surface and her actions may not be agreeable to some viewers. For instance, she didn't tell Yu Sheng that Ping Ping is his son which is grossly unfair to him. She also didn't trust him in her custody fight with his father. Hence, Tan Jing is a flawed character with a lot of stubbornness and pride in her. Her coldness might also not win her any supporters.
Personally though, she is not a hateful character to me. Whether you can relate to her will depend on your ability see things from her perspective. I can understand why she broke up with him and kept quiet about her pregnancy. That is because she didn't want to drag him down with her so that he could fulfill his potential. Moreover, his father's involvement in her father's death is a major barrier for her. When they meet up again, she just isn't prepared to confront the past as that would be opening up old wounds. Moreover, he is dating Vicky then.
Basically, Tan Jing is not that type of person who can easily forgive and forget. If you can accept this flaw in her, then her pain and actions will be easily understood. Otherwise, she will seem too cold for a female lead character and that will take away some level of enjoyment from this melodrama.
My Verdict – Watch!
Because Of Love is definitely worth watching to me. It moves away from the typical substandard romance dramas that are getting too common like Meeting You Loving You and I Am The Years You Are The Stars. It is hard to get a matured love story that is well-executed with great acting and this is where Because Of Love shines. The couple's past is also revealed bit by bit and this also helps to make it intriguing. As this is a serious romance drama with the lead couple being in their 30's, it will resonate better with a more matured audience. In fact, I would think the younger viewers might find the pace to be too slow and hence, boring.
If you are worried about this being a tearjerker, then I would say that it is not as sad as it seems. If you can tolerate One And Only or Go Ahead, this should be less taxing on the emotions. Yes, some scenes will make you cry and tissues will be needed. But they don't weigh you down considerably and it is not all sadness and tears throughout the whole drama. Some scenes are touching rather than truly sad especially those that feature the little boy. Thus, don't let the tearjerker label stop you from giving this a go.
For this Because Of Love review, I would give it a score of 8/10. Watch it for the acting and simple story that successfully evokes deep feelings in the viewers. The plot is really nothing great. But this is a more of an emotionally driven romance drama that relies a lot on the acting skills of the cast to move viewers which was effectively achieved. This is what you will be signing up for when you get on the ride!