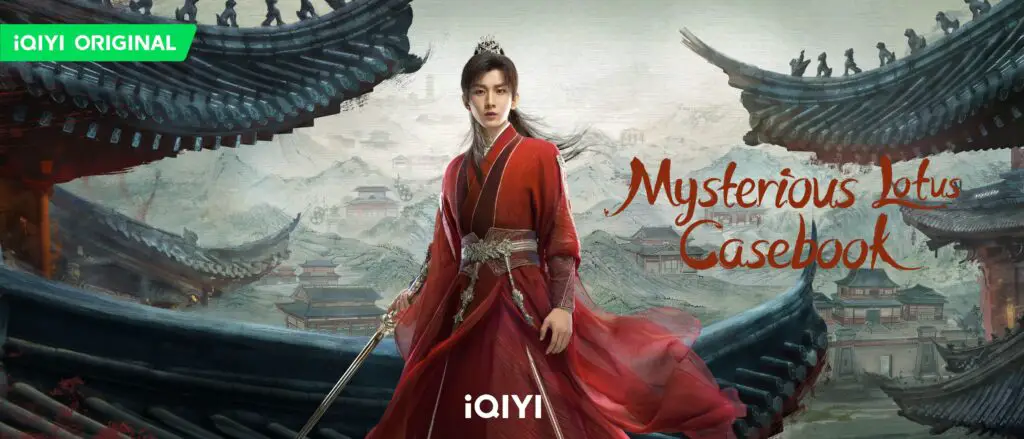 After watching a few romance dramas in a row, Mysterious Lotus Casebook (莲花楼) was a welcomed change for me. I was looking forward to a great mystery and investigative drama and this one happened to appear on the radar. The 2 main leads are also well-known actors. Hence, the reviews are pretty good too that it was hard not to put this on my watch list. I don't regret spending my time on this after completing all the 40 episodes. Below is my Mysterious Lotus Casebook review for those who are still undecided whether to give this a go.
My rating: 8.5/10
Episodes: 40
Type: Mystery
Aired: July 2023
Images Credit: iQIYI Facebook
The Cast Of Mysterious Lotus Casebook
Cheng Yi as Li Lian Hua / Li Xiang Yi
Joseph Zeng Shun Xi as Fang Duo Bing / Xiao Bao
Xiao Shun Yao as Di Fei Sheng
Chen Du Ling as Qiao Wan Mian
Huang You Ming as Xiao Zi Jin
Estelle Chen Yi Han as Su Xiao Yong
Rain Wang He Run as Jiao Li Qiao
Xu Bai Hui as He Xiao Hui
Ding Yi Yi as He Xiao Feng
He Gang as Shan Gu Dao
Wu Shi Le as Shi Shui
Wang Yan Xin as Yang Yun Chun
Jiang Zhen Hao as Zong Zheng Ming Zhu
Shen Bao Ping as Wu Liao
Cheng Cheng as Feng Qing
Main Characters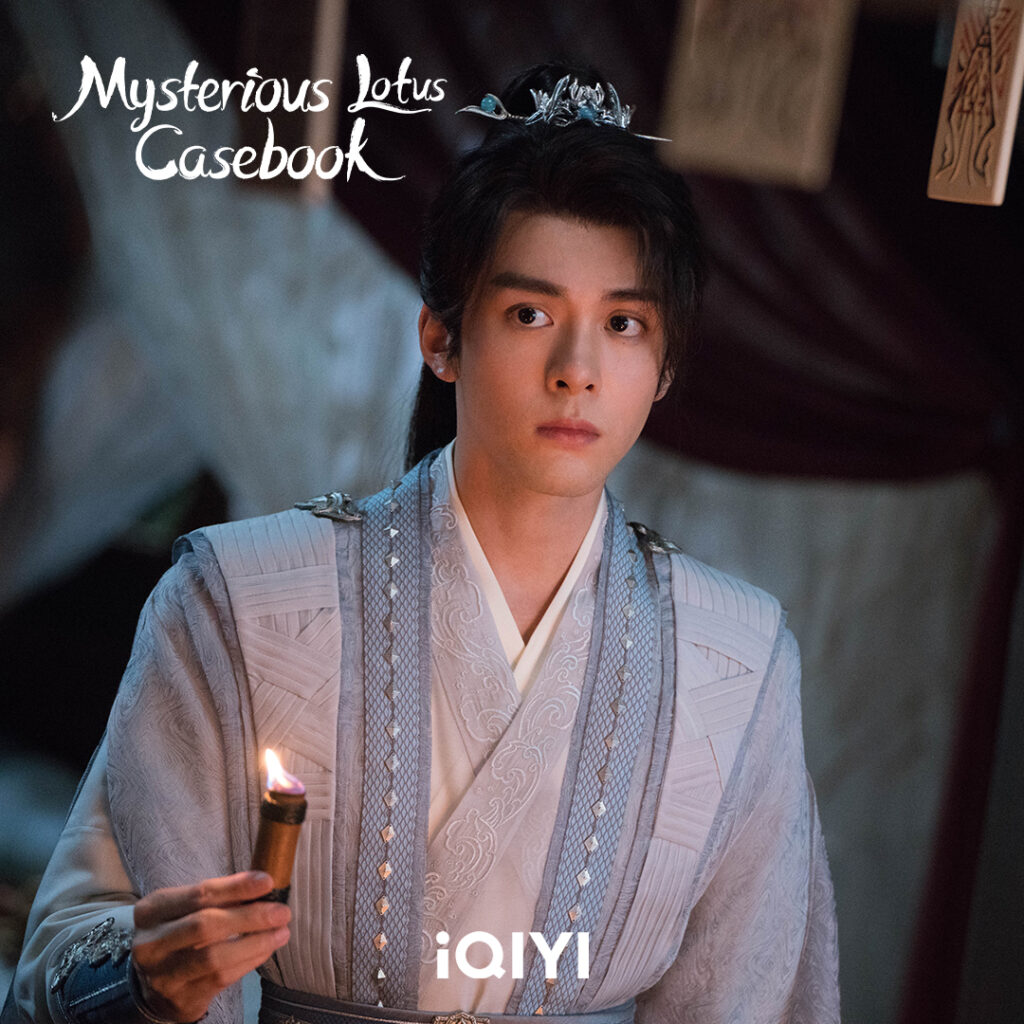 Li Lian Hua / Li Xiang Yi
Xiang Yi was the leader of Si Gu Sect. He was a top martial artist and a great swordsman with a prideful and arrogant attitude 10 years ago. Li Lian Hua is Xiang Yi's current assumed identity. He is now known as a miracle doctor. Li Lian Hua is a very cunning and observant man. He now has a nonchalant personality and nothing much could rattle him with his calm and rational mind.
Fang Duo Bing / Xiao Bao
Fang Duo Bing is the son of a minister and young master of Tian Ji Hall. He loves the martial arts world and has a vibrant and expressive personality. He is good in martial arts but is still young and ignorant. Fang Duo Bing worships Xiang Yi and regards him as his master while Shan Gu Dao is his maternal uncle.
Supporting Characters
Di Fei Sheng
Di Fei Sheng is the leader of Jin Yuan Alliance which is Si Gu Sect's greatest enemy. He is obsessed with being the best martial artist and defeating Xiang Yi. While Di Fei Sheng is ruthless, he is a man of his word and prefers to fight fair rather than resorting to dirty tactics.
Qiao Wan Mian
Wan Mian was a Si Gu Sect member and Xiang Yi's lover. She is a gentle woman with much regret and unhappiness in her heart.
Xiao Zi Jin
Xiao Zi Jin was one of the guardians of Si Gu Sect before it was dissolved at his suggestion. He has feelings for Wan Mian and becomes her companion after Xiang Yi's disappearance.
Su Xiao Yong
Su Xiao Yong is the granddaughter of a renowned healer and respected elder named Su Wen Cai. She is a young lady who likes adventure and has a crush on Li Lian Hua. She also has a sworn brother, Guan He Meng, who is a healer and an expert at using needles.
Jiao Li Qiao
Jiao Li Qiao is the Saintess of Jin Yuan Alliance. She controls the organization during Di Fei Sheng's absence. She is an evil-minded woman who will resort to underhanded means to achieve her aim. Jiao Li Qiao is obsessed over gaining Di Fei Sheng's love and attention. Her assistants include Granny Blood Xie Po and Snow Master Xue Gong
He Xiao Hui & He Xiao Feng
He Xiao Hui is Fang Duo Bing's mother. She is also the leader of Tian Ji Hall. He Xiao Feng is her younger sister and Fang Duo Bing's youngest aunt. He Xiao Feng is also interested in Li Lian Hua.
Shan Gu Dao
Shan Gu Dao was Xiang Yi's disciple elder brother and deputy leader of Si Gu Sect. He was also Fang Duo Bing's uncle.
Shi Shui
Shi Shui is one of the masters of Bai Chuan Court which is a branch of the dissolved Si Gu Sect. She still has strong respect for Xiang Yi although he has been presumed dead for 10 years. The other 3 masters of Bai Chuan Court are Yun Bi Qiu, Bai Jiang Chun, and Ji Han Fo.
Yang Yun Chun
Yang Yun Chun is an official of the Public Prosecutor's Office. He is an upright man who wants to do the right thing to uphold justice.
Zong Zheng Ming Zhu
Zong Zheng comes from a noble family. His grandfather is a senior official in the royal court. Yu Qiu Shuang is Zong Zheng's fiancee.
Wu Liao
Wu Liao is a monk of Pu Du Temple and Xiang Yi's savior.
Feng Qing
Feng Qing is the leader of Wan Sheng Sect which is a fast growing and powerful sect after the demise of Si Gu Sect.
Synopsis
10 years ago, Xiang Yi was a top swordsman and leader of Si Gu Sect. When his disciple elder brother was killed by members of the Jin Yuan Alliance, Xiang Yi sought a fight with its leader, Di Fei Sheng, to avenge his death. The fight took place onboard a ship. Both men ended up falling into the waters and went missing. Xiang Yi was presumed dead.
10 years later, Xiang Yi is now a doctor and has become a changed man. He has given himself a new identity, Li Lian Hua. Because he was poisoned before the fight with Di Fei Sheng, Li Lian Hua only has a year left to live. He has also lost most of his inner power to be a top martial artist due to the poison in his body. His quest before he dies is to find his disciple brother's remains and bury him next to their master. During the course of his investigation to locate the remains, he runs into Fang Duo Bing who needs to solve a few criminal cases to be accepted as a disciple of Bai Chuan Court.
Therefore, the 2 men become partners to solve the cases before them. Fang Duo Bing has no idea about Li Lian Hua's true identity while Li Lian Hua is getting closer to finding his disciple brother's body with each case they encounter. He also learns that his death is not as straightforward as it appears and wants to unearth the real murderer. In the mean time, Di Fei Sheng wants another fight with Xiang Yi after learning that he had won the last round because of the poisoning.
Mysterious Lotus Casebook Ending & Recap (Spoilers Alert!)
I'm not sure if there is an alternative ending to Mysterious Lotus Casebook as has been rumored. But at the time of this review, I have only watched one that has an open ending that leans towards a sad one. In other words, Xiang Yi chooses to save the Fang family by secretly giving away the only Styx Flower that could detoxify his poison to the Emperor. This is because Fang Duo Bin is Shan Gu Dao's son. As Shan Gu Dao rebelled, the whole Fang family is implicated.
Additionally, Xiang Yi and Fang Duo Bin have also learned that the Emperor is not a descendant of royalty when they try to stop Shan Gu Dao from getting a karmic bug that could allow him to control people's mind and usurp the throne. As Xiang Yi is the one with royal bloodline, he would be a risk to the Emperor. Thus, by giving up the flower, his very short life will no longer be a threat. This enables him to leave the palace alive.
Before Xiang Yi leaves, he also uses whatever inner energy that is left in him to save Yun Bi Qiu who has tried his best to repent for poisoning Xiang Yi 10 years ago. He then quietly leaves to be alone to face death but is challenged by Xiao Zi Jin while on the way. This is because Wan Mian has left Xiao Zi Jin and he blames Xiang Yi for it. Xiang Yi breaks his sword instead of taking up the challenge and jumps down from the cliff onto a passing boat below. His message is there is no more Xiang Yi that Xiao Zi Jin needs to worry about and it is the latter's own suspicion and distrust that drove Wan Mian away.
Did Xiang Yi Die?
There is no scene to confirm that Xiang Yi died. Di Fei Sheng has asked Xiang Yi to show up for a duel with him on a certain date at the location of their last fight 10 years ago. Everyone is there hoping for Xiang Yi to turn up. But instead, Xiang Yi has wrote Di Fei Sheng and Fang Duo Bin a letter while on the boat. He has left Fang Duo Bin his swords technique and believes that the young man will be able to surpass him one day. Hence, he tells Di Fei Sheng to challenge Fang Duo Bin instead when the time comes. Xiang Yi is seen throwing up blood into the waters after writing the letter and the scene stops there.
After reading the letter, Fang Duo Bin cannot accept and refuses to believe that Xiang Yi has died. He wants to look for him. Di Fei Sheng is melancholic and deeply feels that no one can replace Xiang Yi as his rival in determining who is the best martial artist.
Although there is no confirmation that Xiang Yi died, the lead up to it will indicate that death is imminent since he has given up the possible cure to the Emperor. He is also at peace with everything that has happened and has saved those he cares about.
When Did Li Lian Hua's Identity Get Exposed?
Di Fei Sheng meets Li Lian Hua in Episode 7 when they are after the same elixir in a secret tomb. He could recognize his greatest rival and knows he is Xiang Yi. But they make a deal to keep his identity a secret as both men need something that only the other could offer.
In Episode 16, Li Lian Hua engages Zong Zheng in a fight to stop him from stealing an ancient artifact. His moves makes Zong Zheng suspect that he is Xiang Yi and reports it to Jiao Li Qiao. The latter then poisons Wan Mian in Episode 18 to try to flush Xiang Yi out. Thus, Xiang Yi is forced to use his unique technique to save Wan Mian who then knows who he is.
Xiao Zi Jin suspects Li Lian Hua is Xiang Yi in Episode 19 when he notices the latter's peculiar habit. He then checks Wan Mian's inner energy while she is asleep for confirmation. He confronts Xiang Yi thereafter and challenges him to a fight due to his insecurity but is stopped by Wan Mian.
Fang Duo Bin finally learns Li Lian Hua is Xiang Yi in Episode 27. They are attacked by Jiao Li Qiao which forces Xiang Yi to protect Fang Duo Bin. His moves automatically reveals his identity to both. Jiao Li Qiao also confirms Li Lian Hua's identity to Yun Bi Qiu in Episode 30 to instigate him to kill Xiang Yi given their past history. Li Lian Hua's identity is also exposed at Tian Ji Hall when Shan Gu Dao attacks them in Episode 33.
Fang Duo Bin is forced to reveal Li Lian Hua is Xiang Yi to Si Gu Sect masters in Episode 37 when he needs their help to locate a missing Xiang Yi.
Xiang Yi & Wan Mian
Xiang Yi and Wan Mian used to be lovers. But in a flashback in Episode 9, Wan Mian left Xiang Yi a breakup letter because she was tired of having to keep up with him in their relationship. His priority was to be the best martial artist and the Si Gu Sect. Xiang Yi only read the letter after the fight with Di Fei Sheng and presumed dead. It was part of the reason why Xiang Yi chose to hide himself and changed his identity after the fight.
However, Wan Mian regretted writing the letter and still yearns for Xiang Yi. Hence, she couldn't fully commit herself to Xiao Ji Zin who has been pursuing her for 10 years. In Episode 9, a masked Li Lian Hua tells Wan Mian that Xiang Yi is dead. That is why he is in possession of the sachet that was Wan Mian's gift to Xiang Yi. As a result, Wan Mian decides to move on and accept that Xiang Yi is dead in Episode 10 and get married to Xiao Zi Jin in Episode 17.
However, Wan Mian is poisoned by Jiao Li Qiao on her wedding day in Episode 18 which requires Xiang Yi's special technique to detoxify. Hence, Wan Mian realizes Xiang Yi is still alive. But Xiang Yi tells her to move on instead and live the life that she wants with Xiao Zi Jin. They try to treat each other as old friends from then on and never got back together as a couple.
Is There A Love Triangle?
Xiao Zi Jin and Wan Mian have become a couple after Xiang Yi's disappearance. As Xiang Yi also wants Wan Mian to be happy and move on, she marries Xiao Zi Jin in Episode 17. However, their wedding ceremony is cut short when Jiao Li Qiao poisons Wan Mian in Episode 18. After Xiao Zi Jin learned that Xiang Yi is still alive in Episode 19, he begins to feel insecure and bitter that Wan Mian may still have feelings for her ex who is still being regarded as a hero. He also becomes the new head of the revived Si Gu Sect to prove that he can be better than Xiang Yi.
In Episode 20, Xiao Zi Jin spreads rumors that Xiang Yi caused Shan Gu Dao's death to tar his reputation. Wan Mian confronts him over it. She cancels their wedding after quarreling with him over the matter since they can't get over the emotional knot from the past. In Episode 37, Xiao Zi Jin's pettiness causes him to reject Fang Duo Bin's request for assistance in locating a missing Xiang Yi who is being held by Jiao Li Qiao and Shan Gu Dao. This causes Wan Mian to take away his leader badge and accuses him of being a humiliation to Si Gu Sect. Wan Mian leaves Si Gu Sect and Xiao Zi Jin for good in Episode 40.
Fang Duo Bing's Background
Fang Duo Bing is actually Shan Gu Dao's son with He Xiao Lan. When He Xiao Lan got pregnant, she went back to her family as Shan Gu Dao's only interest was the Si Gu Sect and the martial arts world. She died after giving birth to Fang Duo Bing. It was her wish to keep her son from knowing who his biological parents were. Hence, Fang Duo Bing was brought up as a son of He Xiao Hui and her husband. He Xiao Hui and He Xiao Lan were sisters. Shan Gu Dao became an uncle instead as per He Xiao Lan's wish.
Xiang Yi finds out that Fang Duo Bing is his disciple brother's son in Episode 13 through Di Fei Sheng who threatens to kill the young man if Xiang Yi refuses to accept his challenge to a fight. Fang Duo Bing finds out the truth himself in Episode 16 from a captured criminal and gets the confirmation from his mother in Episode 17.
Who Is Shan Gu Dao?
Xiang Yi discovers new evidence about Shan Gu Dao's death in Episode 16 and wants to get to the truth. In Episode 18, Di Fei Sheng's subordinate, King Xun Ming of Yama, tells Xiang Yi that it was Shan Gu Dao who issued Jin Yuan Alliance a challenge. When they arrived, Shan Gu Dao was already dead.
In Episode 20, Xiang Yi and Fang Duo Bing track down an ex-Si Gu Sect member, Liu Ru Jing, who tells them that Shan Gu Dao was probably killed because he was investigating the Nan Yin tribe which wanted to resurrect their country and was colluding with the Jin Yuan Alliance. 4 persons are holding a key each and all 4 keys are needed to open an ancient secret of the Nan Yin tribe which would allow them to control the people's mind.
In Episode 31, Fang Duo Bin finds Shan Gu Dao's secret letters in Madam Qin's residence. Madam Qin is Shan Gu Dao's master's wife. Together with Xiang Yi, they discover that Shan Gu Dao is actually the descendent of a Nan Yin princess named Consort Xuan who married Crown Prince Fang Ji 100 years ago. Consort Xuan had plans to revive the Nan Yin kingdom but a power struggle for the throne caused her husband's downfall. Before the couple died, Consort Xuan sent her son to safety but the person couldn't find the boy at the designated location. The person who was supposed to find him was Feng Ah Lu and subsequently, the duty falls on his descendent, Feng Qing, the leader of Wan Sheng Sect.
Who Killed Shan Gu Dao?
After putting the pieces together, Xiang Yi and Fang Duo Bing come to the conclusion that Shan Gu Dao was the one who destroyed Si Gu Sect in collaboration with Jiao Li Qiao. Shan Gu Dao did it because he couldn't control Si Gu Sect and use it to carry out his plan to revive the Nan Yin kingdom with Xiang Yi at the helm. He took advantage of Jiao Li Qiao's obsession with Di Fei Sheng as she also wanted to weaken Jin Yuan Alliance and kill Xiang Yi to obtain Di Fei Sheng's sole attention. With the 2 major sects destroyed, Wan Sheng Sect was able to rise and gain power. Hence, Shan Gu Dao is the person behind Wan Sheng Sect.
Xiang Yi and Fang Duo Bin confirm this in Episode 32 when they dig out and open Shan Gu Dao's coffin. The corpse was only made to look like Shan Gu Dao to fool everyone. He faked his own death because Liu Ru Jing was getting close to the truth. In Episode 33, Shan Gu Dao also admits to Xiang Yi that he caused their master's death. He is bitter that their master always favored Xiang Yi and was even willing to die to save his favorite disciple.
Shan Gu Dao dies after a fight with Xiang Yi in Episode 39. His plan to take the throne also fails. He lost the duel with Xiang Yi and dies a bitter man as he isn't royalty as he believed but Xiang Yi is.
Plot Twist #1
In Episode 37, a ruined inverted pagoda reveals the secret of the current Emperor's bloodline. The karmic bug needed by Shan Gu Dao to overthrow the Emperor is beneath the ruins. Hence, Xiang Yi and Fang Duo Bing make their way inside and chance upon the secret. The pagoda used to be a secret meeting place between Consort Ying and Feng Ah Lu. Feng Ah Lu was supposed to look for Consort Xuan's son after her Crown Prince husband was deposed but got besotted by Consort Ying's beauty. Their affair resulted in a baby son for Consort Ying who knew that the Emperor was infertile.
To hide the secret, Consort Ying demolished the pagoda and killed Feng Ah Lu with it. But Feng Ah Lu had left evidence inside the pagoda which Xiang Yi and Fang Duo Bing came across.
Plot Twist #2
In Episode 39, they learned that only Consort Xuan's bloodline could destroy the dangerous karmic bug. But surprisingly, Fan Duo Bing's and Sha Gu Dao's blood have no effect on the bug but Xiang Yi's blood could. Madam Qin then reveals that Xiang Yi's parents and her husband were good friends. Xiang Yi's family was killed by bandits which made him and his elder brother orphans and beggars. As beggars, the brothers met another child beggar, Shan Gu Dao. But Xiang Yi's brother subsequently died of illness. Before he died, he gave his jade pendant that could identify him as a direct descendent of Consort Xuan to Shan Gu Dao to help him to take care of Xiang Yi.
However, Shan Gu Dao fell unconscious after getting injured later on. By the time Madam Qin and her husband found them, Shan Gu Dao has already lost his memories of the past while Xiang Yi was too young to understand and remember what had happened. Because Shan Gu Dao has the jade pendant, Feng Qing thought the former is Consort Xuan's descendent.
Di Fei Sheng's Background
Di Fei Sheng has a tragic childhood in Di Fortress. He was cruelly trained to kill those he knew because that was the only way to survive. The master controlled all the members with a bug implanted into their body so that they couldn't rebel. That is why he helps Shan Gu Dao to obtain all the keys to the box that contains the bug from Xiang Yi and Fang Duo Bin in Episode 34. Di Fei Sheng that snatches the keys and box from Shan Gu Dao and uses the bug to remove the one implanted in him by the Di Fortress master.
After freeing himself from the bug, he exacts revenge against the Di Fortress master by breaking all his meridian points and saves those under his control in the fortress. However, Di Fei Sheng loses back the bug to Shan Gu Dao after being poisoned by Jiao Li Qiao. His tendons are then severed by Jiao Li Qiao so that she can own him since he has never showed any interest towards her.
Di Fei Sheng is then held captive by Jiao Li Jiao but is saved by Xiang Yi in Episode 38. He kills her after regaining his powers with Xiang Yi's help.
Mysterious Lotus Casebook Review – Great For Mystery Lovers
Mysterious Lotus Casebook is a solid drama in terms of plot and scriptwriting. If you like mystery and solving cases, this is one of the better ones out there. What I find really good is the way the scriptwriters have tied up the individual cases with the overarching plot of unearthing the mystery surrounding the main lead's disciple brother. Hence, one case leads to another as it inches towards the climax at the end. It is different from The Ingenious One which uses schemings and strategies to uncover the truth and seek justice for a case from the past. Mysterious Lotus Casebook is more about using wits, observation, and deduction to solve the cases.
Just like A League Of Nobleman, the cast and story are male-centric. There is also little romance in this one. Therefore, don't watch this with the expectation of a love story developing. In fact, the woman who is supposed to be the male lead's love interest appears infrequently throughout the 40 episodes. There will be long stretches whereby she is not seen at all. The romance is only a small subplot whereas the cases is what drives the story forward.
Interesting Cases
For a detective drama, the watchability depends heavily on the cases presented to the viewers. If the cases or their presentation is boring, the drama will become a drag. Mysterious Lotus Casebook is able to avoid this problem for the most part. There is creativity in the way the cases arise and how they are solved. There are also strong reasons why the victims were killed.
The only complaint that one may have is this is a detailed-oriented drama and you will have to pay attention to the conversations. While there are fight scenes, the action is not at the level of Side Story Of Fox Volant with a more traditional wuxia style. The fights in Mysterious Lotus Casebook are still pretty good and nicely choreographed but they may not be happening frequent enough if you are more inclined towards an action drama.
Instead, it is the dialogues that you will need to listen closely to to know what is going on. It can be boring especially in the beginning when the pace is slower and the story has yet to fully develop. This is when it is easy to fall asleep as you watch. It can be rather dry at times just listening to the characters talking. However, the second half will start to get better and better. More will be revealed as the male lead works to find out who killed his disciple brother and this leads to some plot twists which are logically interwoven into the story.
Surprising Plot Twists
There are a few plot twists in the drama which will throw you off-guard. But this is also where it shines as the story isn't as predictable as you would expect. The twists are incorporated in such a way that makes sense and the story would be less interesting without them. After all the lead-up to an expected outcome, the bombshell at the critical moment just seems utterly satisfying.
Apart from the well-done plot twists, the drama also has likable main characters. Instead of a bickering couple in many romantic dramas, you will have 3 men with different personalities in Mysterious Lotus Casebook. The relationship among these 3 men is already engaging at the very start because one is kept out of the loop about the identity of the other 2. Thus, the conversations between them can be funny, witty, and creative as one tries to hide his identity from the other.
Acting & Chemistry
I have to compliment Cheng Yi for his portrayal of Xiang Yi. The last time I caught sight of him is in Immortal Samsara and he did pretty well in that drama too. As Xiang Yi in Mysterious Lotus Casebook, he seems to live and breathe the character. His expressions immediately leave you with the feeling that Xiang Yi is witty and toying with those around him. His body language is relaxed and indifferent as per the character who has matured and made peace with his past.
Joseph Zeng has also improved since his early start in Heaven Sword And Dragon Sabre (2019). So, he definitely has experience when it comes to fighting scenes which he carried out well in Mysterious Lotus Casebook as Fang Duo Bing. To me, he is ideal for the role as he looks young enough to be Xiang Yi's junior and has expressions that project his immaturity and greenhorn nature.
Both of them display great chemistry as partners. The characters' different personalities add to the charm in their relationship and interactions. Together with Xiao Shun Yao as Di Fei Sheng, the 3 of them basically carried the show.
My Verdict – Watch!
Mysterious Lotus Casebook is not only superb in its investigation aspect with its whodunit tone. Just like Strange Tales Of Tang Dynasty, it also has well-written characters and partnership to bring the story to life. While it has no strong female lead, the 3 male leads alone are enough to give the drama legs. Each of the 3 male protagonists have unique background and personality which generates the required chemistry to cut down on the monotony of a detective drama. With the sharp tongue of one of them that could hurt, mock, or just banter, the dialogues also become more witty and stimulating.
This is certainly not a straightforward drama like typical rom-coms. While I don't see it as complicated, you will still need to devote a certain level of attention to follow the story. The cases are solved using brains and observation before the leads put the pieces together. This will be reflected in the dialogues. So, if you missed them, then the cases may not make sense anymore. In short, this is a drama that you should save for those times when you are more prepared to follow the details.
For this Mysterious Lotus Casebook review, I would rate it 8.5/10. This will be another great drama for Cheng Yi's and Joseph Zeng's fans. I like it because the story has a logical flow to it and well-executed with its plot twists. Not many dramas can execute a good plot twist that doesn't feel forced. This one did it rather well. Together with the quality acting, well-written characters, and a good plot, this is one of those rare dramas that has many things going right for it.